A Japanese analysis suggests that China could use strategic transport aircraft for airborne missions to seize islands in the South China Sea.
The analysis considers the events of 31 May 2021, when around 16 People's Liberation Army Air Force (PLAAF) strategic transports – a mix of Xian Y-20s and Ilyushin Il-76s – conducted a long-range sortie to within 60nm (111km) of East Malaysia on the island of Borneo.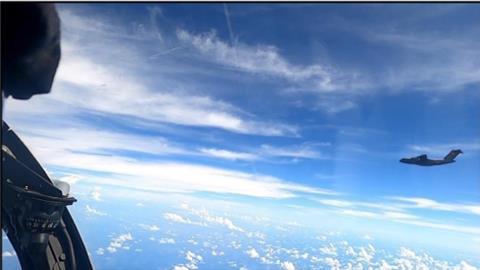 The Royal Malaysian Air Force (RMAF) intercepted the PLAAF aircraft with BAE Systems Hawk 208 fighters based on the island of Labuan.
The RMAF tweeted about the incident with a map of the incursion, but China had little to say other than that its aircraft – which ignored air traffic control queries – had operated safely in international airspace. The US corroborated Malaysia's contention about a large number of aircraft.
The event created a brief stir in the media, with speculation suggesting that Beijing was sending a political message to Kuala Lumpur, with which it has territorial disputes in the South China Sea. Other speculation suggested the PLAAF was conducting a navigation exercise, or was trying to assess Malaysia's reaction capabilities.
A Japanese analysis, however, suggests another possibility. Originally published in July 2021 by a Japan Air Self-Defense Force (JASDF) think tank, the analysis was recently translated into English by analyst Derek Solen of the US Air Force's China Aerospace Studies Institute.
It notes that maintaining a separation of 60nm, the PLAAF transports flew at 290kt (536km/h) between 23,000-27,000ft. This indicates that the aircraft would have passed over the same point at intervals of 12min 30s.
The JASDF analysis doubts that the flight was either a navigation exercise or an effort to learn more about Malaysian defences. It contends that using a 16-aircraft sortie for navigation work is "unrealistic" given the costs involved as well as the availability of modern simulation technology. Similarly, a large armada of aircraft is a costly way to gather electronic intelligence.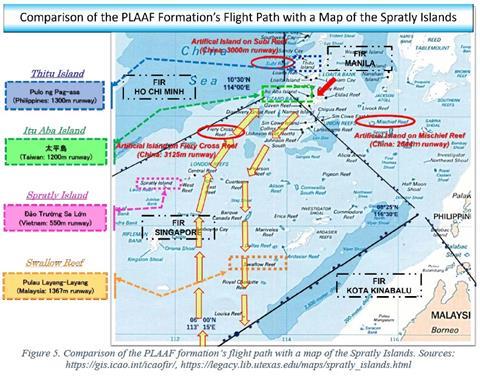 On the other hand, it points to Chinese defence sources, which sees a role for paratroopers seizing key objectives early in a conflict. It also notes the increasing publicity China's defence ministry gives to the training of paratroopers.
In the specific context of the 31 July incursion, it conjectures that the mission flew over several strategic South China Sea islands controlled by other countries, such as Malaysia's Swallow Reef, the Philippines' Thitu Island, Taiwan's Itu Aba Island, and Vietnam's Spratly Island.
All four islands have runways of varying lengths. The JASDF report, noting that 16 transports can carry around 1,600 paratroopers, indicates that seizing them would help Beijing secure its sea lanes of communication.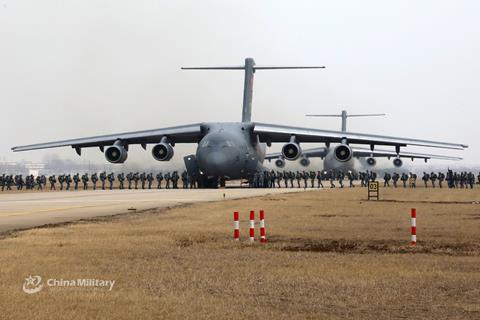 "This kind of flight, which can be taken as a demonstration of strength by China, can be thought of as a scenario in which airborne forces are dropped on airfields on Taiwan's Taiping Island, Malaysia's Swallow Island, Vietnam's Spratly Island, and the Philippines' Pag-asa Island," says the JASDF report.
"It is likely that as a part of that, the crew of each aircraft practiced a basic flight profile including familiarising themselves with the surrounding topography."
While unusual in its composition and direction, the 31 May 2021 flight is consistent with overall patterns of Chinese air activity. On a daily basis, Beijing conducts probing flights around Taiwan, sometimes with large numbers of aircraft.
More recently, the aircraft carrier CNS Liaoning has conducted flight operations in the Pacific Ocean off Taiwan's east coast.