As is sometimes the way, the biggest defence-sector story of the last Dubai air show did not break cover until several weeks after the event had concluded.
On 3 December 2021, it was announced that the United Arab Emirates was to buy 80 Rafales from Dassault Aviation, in the largest-ever export deal for the French-built type. Deliveries of the enhanced F4-standard fighters are due to run between 2027 and 2031, says Dassault, whose contract came into effect in April 2022, on the receipt of initial payments.
The French government has valued the deal as worth €16 billion ($17 billion), including a €2 billion package of air-launched weapons, primarily from European manufacturer MBDA. Artist's renderings prepared by Dassault depict the type carrying Mica and Meteor air-to-air and SCALP-EG cruise missiles.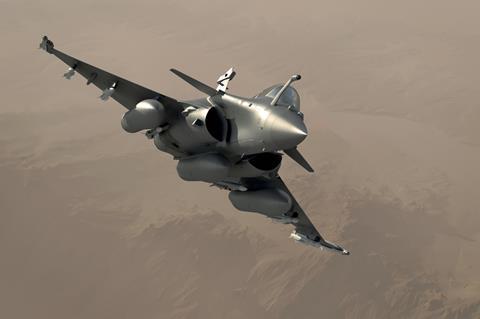 An existing user of the Dassault Mirage 2000-9, the UAE will become the second Gulf Cooperation Council (GCC) member to field the Rafale, after Qatar, which has 36 examples in use.
Its order will see it become the first international customer to take Rafales in the F4 operating standard, following the French air force and navy. Key updates include improvements to the fighter's radar, electronic warfare and communications systems.
Much of the anticipation in the run-up to the 2021 Dubai air show had been around the UAE's planned acquisition of 50 Lockheed Martin F-35As, which had received backing from the administration of departing US President Donald Trump late the previous year. Washington DC valued the proposed Foreign Military Sales (FMS) deal at around $10.4 billion.
But the prospects for an F-35 deal rapidly appeared to dim, as the show hosted an international unveiling of the Sukhoi-designed Su-75 Checkmate. Washington had previously made its position clear that customers for its stealth fighter could not also do business with Moscow. This stance had been underscored when it ejected Turkey from the F-35 programme in 2019 after Ankara took delivery of Almaz-Antey S-300 long-range air defence system equipment from Russia.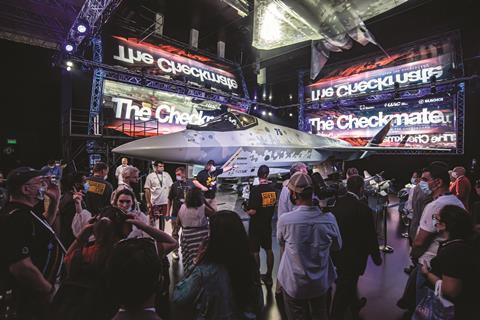 In a further muddying of the geopolitical waters, China's AVIC also exhibited its Hondgu L-15 jet trainer at the last Dubai show. In February 2022 it emerged that the UAE planned to buy 12 of the twin-engined type, plus 36 options. Reports from the IDEX show in Abu Dhabi in February 2023 indicated that a 48-aircraft deal had been finalised, but the exact status of the acquisition remains uncertain.
The UAE's air force and Joint Air Command currently have no manned Chinese- or Russian-built aircraft in their inventories, and its interest in potentially adjusting this situation looks to have put the brakes firmly on any F-35 buy.
Meanwhile, this year marks the 25th anniversary of the UAE's selection of the Lockheed F-16, with 78 of its original 80 fighters still in service.
TRAINER NEED
If an L-15 order has yet to be finalised, Boeing may be keen to capitalise on the UAE's need to modernise its pilot training system, which currently employs aged BAE Systems Hawk 102s. Boeing in September 2023 delivered a first engineering, manufacturing and development-phase example of its T-7A Red Hawk advanced jet trainer to the US Air Force (USAF), which expects to introduce the type to service in 2026 via a 351-unit acquisition.
An industry source indicates to FlightGlobal that now is the time for potential future T-7A operators to be offered the type, since the first export slots could become available late this decade.
The UAE has a years-old requirement to acquire a new advanced jet trainer fleet, with other past projects of interest having including Leonardo's M-346 and the EADS-promoted Mako; a concept which never advanced beyond the drawing board.
Other developments concerning the UAE's procurement activities have since the last show included Saab in April 2023 conducting the first flight of its customer's fourth of five GlobalEye surveillance aircraft. The heavily adapted Bombardier Global 6000 features a new antenna fairing on either side of its forward fuselage, to accommodate undisclosed additional equipment.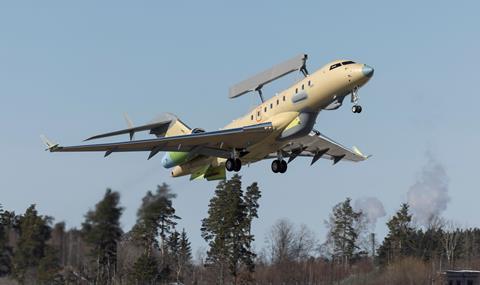 Three GlobalEye aircraft are already in use with the UAE, with the platform capable of simultaneous airborne, maritime and land surveillance. Deliveries of its remaining assets will be made during 2024.
One of the deals confirmed at the last show will see the UAE bolster its current fleet of three A330 multi-role tanker transports (MRTTs), with Airbus Defence & Space to deliver two more of the adapted widebodies. Announced during the event's opening day, the deal was valued by the UAE as worth approximately AED2.5 billion ($680 million).
LATEST STANDARD
Deliveries are due to start next year, while the nation's existing tankers will also be upgraded to the MRTT's latest equipment standard.
The UAE has been quiet on the FMS front since November 2021, with the only aviation-related item to have been detailed by the US Defense Cooperation Agency – in July 2022 – a potentially $980 million follow-on sustainment deal linked to its fleet of eight Boeing C-17 strategic transports.
Airlift remains an area in need of further attention in the UAE, due to the increasing age of its Lockheed C-130H/L-100 tactical transports: it has eight in-use examples, aged up to 47 years, but previous interest in the J-model Hercules failed to progress.
Candidates for any replacement requirement would include the Airbus A400M and Embraer C/KC-390.
The A400M programme continues to await its first large-scale export success, with Airbus having so far secured deals for two each with Indonesia and Kazakhstan, and already completed a four-aircraft deal with Malaysia.
Embraer has teamed with the UK's BAE to pursue sales of its twinjet transport in the Middle East region, with Saudi Arabia as their primary focus. Since the last Dubai show, the Brazilian airframer has secured the Netherlands (5) and Austria (4) as buyers for its C-390, with the nations following Brazil, the Czech Republic and Hungary in selecting the type.
Separately, work to further develop the UAE's domestic defence industry continues at a rapid pace, with its fast-growing EDGE at the forefront.
Visitors to this year's show will be keen to find out more about the progress being made on a pair of projects undertaken by Abu Dhabi-based Calidus.
Designed for light-strike and surveillance tasks, the company's B-250 single-engined turboprop was unveiled at the 2017 show, and the UAE ordered 24 examples at the event two years later.
Deliveries under this deal have yet to start, but Calidus in January 2023 reported that it had made "further progress in the development of the B-250".
"Flight tests of the aircraft are now being conducted in Al Ain," the company said. The first aircraft of its kind to be manufactured in the UAE, the type is "designed to undertake multi-role missions in asymmetric warfare, including close air support, counter-terrorism, intelligence, surveillance and reconnaissance", and can "also be used for training of pilots", it says.
Key equipment suppliers include: PT6A-68 engine maker Pratt & Whitney Canada; Pro Line Fusion avionics producer Collins Aerospace; Martin-Baker, with its AE16Z ejection seat; and EDGE subsidiary Halcon Systems (guided weapons).
Cirium information indicates that two B-250s have been flown to date, originally via a project between Calidus and Brazil's Novaer. The pair – now registered 980 and 981 – were built in 2017 and first flown in Brazil. Cirium expects production deliveries to the UAE air force to run between mid-2024 and March 2026.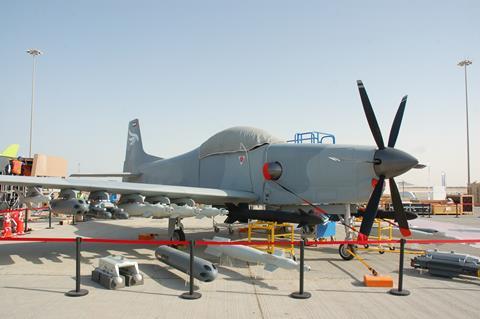 At the 2021 show, Calidus also unveiled its larger B-350 concept: a two-seat, long-endurance platform with 12 under-wing hardpoints for weapons. The company provided few further details, with elements including its engine selection – understood to be the P&WC PW127 turboprop – not revealed at the time.
Meanwhile, Cirium fleets data shows that the six GCC nations now have a total of 2,072 active military aircraft between them: an increase of 121 since our last review prior to the 2021 Dubai show.
Saudi Arabia's 916-strong inventory accounts for a 44% share of the total, followed by the UAE (557/27%) and Qatar (226/11%). The other three nations each account for 6% of the overall figure, with their individual fleets being: Bahrain (122); Kuwait (122); and Oman (129).
The largest fleet increase has been in Qatar, which boosted its inventory by 65 aircraft over the two-year period, followed by net increases in Kuwait (20), Saudi Arabia (19), Bahrain (12), the UAE (4), and Oman (1).
Cirium indicates that five of the nations have a combined 374 military aircraft on order currently, while Oman has none.
Saudi Arabia has the largest share: 193 aircraft, or 52%. These are largely rotorcraft: 155 Sikorsky UH-60 Black Hawks, 25 Boeing AH-64Es, six Boeing CH-47Ds and three Airbus Helicopters H215s. It also has four Beechcraft King Air 350 surveillance assets on order.
The UAE's 31% share totals 116 aircraft: its 80 Rafales, 24 B-250s and two GlobalEyes, plus 10 AH-64Es, for its Joint Air Command.
Now nearing the end of a spending spree that has seen it field a trio of multirole fighter types, Qatar's commitments currently stand at 19 NH Industries NH90s, 10 Eurofighter Typhoons and a lone Pilatus PC-24: for a combined 30 aircraft, or 8% of the GCC total.
Kuwait (20/5%) is still to receive 19 of its Typhoons and one H225; the latter for naval use. Bahrain's 4% stake is due to 15 Block 70 F-16s, not yet delivered.
SALES OPPORTUNITIES
Regional sales opportunities could exist for Boeing's F-15EX Eagle II, two test examples of which are currently being evaluated by the USAF. Qatar – which earlier this year took its last of 36 QA-model Advanced F-15s – has an option to double that total, and Israel is understood to be seeking a batch of EX-equivalent jets to bolster its inventory of the type.
Additional in-flight refuelling demands could open an opportunity for further sales of the A330 MRTT – six of which are also in service in Saudi Arabia – or Boeing's 767-based KC-46A. The UAE has previously indicated a potential need to increase its tanker capacity, while the Qatar Emiri Air Force conspicuously lacks any such capability currently to support its almost 100-strong and growing fleet of F-15, Mirage 2000, Rafale and Typhoon fighters.
Increased surveillance requirements could also present an opportunity, with Boeing keen to pitch its 737NG-based E-7A airborne early warning and control system. Saudi Arabia is the only operator of aged Boeing E-3 airborne warning and control system aircraft among the GCC states, with the UAE's GlobalEyes representing the only other such operational capability among the grouping.