Leonardo Helicopters has showcased what it calls a "representative" concept of the Proteus unmanned technology demonstrator it is developing for the UK Royal Navy.
Work on Proteus is being carried out under phase 3 of a four-year contract signed with the UK Ministry of Defence in 2022 to demonstrate the capability of a rotary-wing unmanned air system (RWUAS) to perform a variety of naval missions including intelligence, surveillance, target acquisition and reconnaissance, and logistics supply.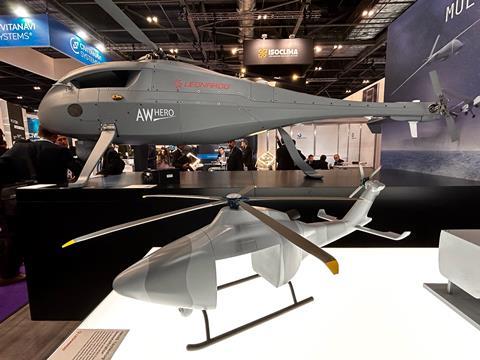 Displayed on the manufacturer's stand at the DSEI defence show in London, a one-tenth scale model of the design shows a modular concept based around a system of interchangeable containerised payloads sized to accommodate two NATO-standard pallets.
This, says Leonardo Helicopters, "will ensure rapid role changes for frontline commands, including naval and land forces, with mission flexibility during embarked operations".
Leonardo Helicopters has yet to finalise the design of the Proteus but says the concept on show at DSEI – featuring a single five-bladed main rotor – is indicative of the overall architecture under consideration; early renderings of the platform showed a tandem-rotor design.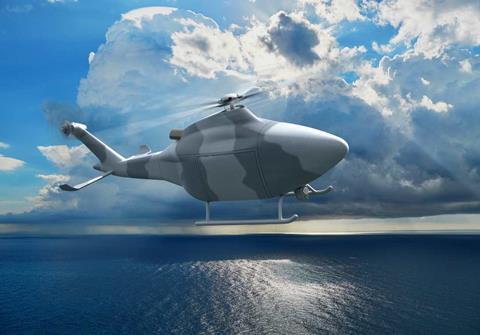 "The model on display at DSEI is representative of the RWUAS programme and its latest developments that we are achieving in collaboration with the UK MoD," says Adam Clarke, managing director of Leonardo Helicopters UK. "The architecture selected is the one best suited to exploring maritime capabilities.
"We have completed a number of system concept reviews and have launched significant work on autonomous functionality required to deliver high-end mission capability."
However, work continues "to investigate the potential systems which will contribute to the technology demonstrator's final architecture", the airframer says.
Leonardo Helicopters aims to perform a first flight of Proteus in the middle of the decade.

Dominic Perry is deputy editor of Flight International but also contributes extensively to flightglobal.com. Although specialising in the coverage of the helicopter industry, he has written on most topics in aerospace – be they commercial, defence or business aviation. In addition, there has been an increasing focus on the decarbonisation of the industry and zero-emission flight initiatives.
View full Profile