Lockheed Martin-owned PZL Mielec and US firm Sierra Nevada (SNC) have unveiled the first prototype of the special operations variant of the Polish airframer's M28 twin-turboprop.
The M28 SOMA – or Special Operations Multi-Role Aircraft – gains four under-wing weapon stores, new sensors and modifications to allow the installation of reloadable launch tubes.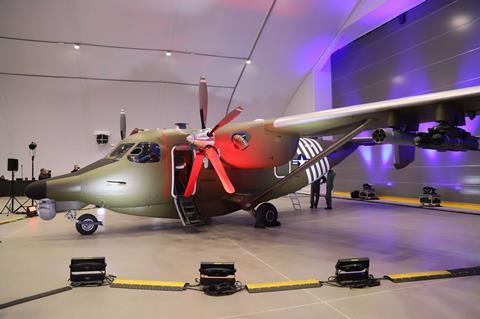 Marketed in the USA as the MC-145B Coyote, the aircraft is being pitched to the US Special Operations Command (SOCOM) for its Armed Overwatch programme.
That effort seeks to replace the SOCOM fleet of U-28 Dracos – a modified Pilatus PC-12 single-engined turboprop used for intelligence surveillance and reconnaissance (ISR) missions – with 50-75 new aircraft.
These would be used for close air support, precision strike, and special operations ISR in austere and permissive environments.
Transformation of the standard M28 Skytruck transport into the MC-145B required only small airframe modifications, including local strengthening of the wings alongside installation of the weapon pylons; PZL Mielec says the changes could also be implemented to in-service aircraft.
SNC is aiming to secure certification for the MC-145B in mid-2022, and believes that if selected for the Armed Overwatch requirement it could deliver the first aircraft for operational use in the 2023-2024 timeframe.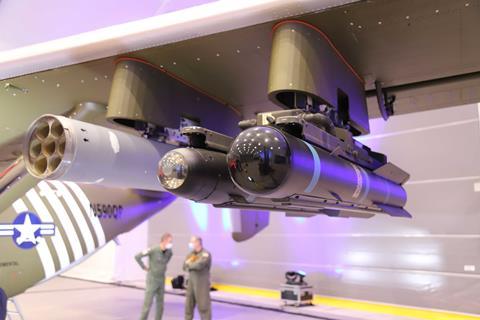 Aircraft would be manufactured at PZL Mielec's facility in Poland and then shipped to the USA for customisation and delivery by SNC.
The MC-145B can carry up to 454kg (1,000lb) of munitions, including guided missiles and rockets, or the GBU-39/B Small Diameter Bomb. Sensors include radar, electronic attack and anti-IED payloads.
Inside the aircraft are four reloadable Common Launch Tubes to enable the launch of weapons such as the GBU-69 Small Glide Munition and AGM-176 Griffin, or small unmanned air vehicles. The aircraft is also provisioned for four additional launch tubes.
Other changes include the addition of countermeasures, a new glass cockpit, data links, dual-mode landing lights, and a L3Harris Wescam MX-15 electro-optical/infrared sensor turret housed in the aircraft's extended nose. Additional sensors can also be deployed as required, including in the M28's belly compartment.
Earlier this year, the same aircraft performed demonstration flights in support of the Armed Overwatch programme at Eglin AFB in Florida.