A Qinetiq-led team has been awarded £31 million ($37 million) to continue delivering engineering support to the UK's Future Combat Air System (FCAS) programme until mid-2025.
Also including Atkins, BMT, Qinetiq's Inzpire subsidiary and undisclosed subcontractors, the Aurora engineering delivery partnership (EDP) will focus on human performance, safety, and systems engineering disciplines, the UK Ministry of Defence (MoD) says. The activity will be performed for the nation's Defence Equipment & Support (DE&S) Catalyst delivery team for FCAS.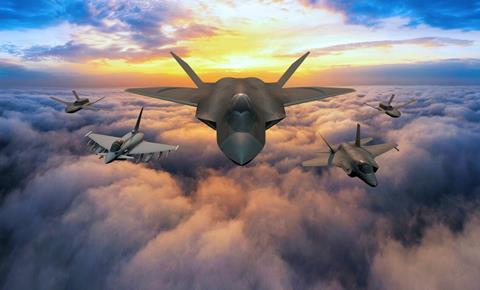 "Our work will help accelerate new ways of working using digital engineering methodologies in supporting the next generation of combat air platforms," says Nic Anderson, Qinetiq chief executive UK defence.
The Aurora EDP team's involvement will also include supporting work on uncrewed systems and digital engineering capability development, Qinetiq says. "Together, these will enable DE&S to deliver the necessary engineering outputs required by the MoD to support the development of future FCAS capabilities as they are acquired and brought into service," the company adds.
The current deal – which builds on an earlier two-year arrangement – covers support activities until August 2025, but Qinetiq notes: "As the Catalyst programme grows, EDP provides a strong platform to support emerging requirements for years to come."
"This contract with Aurora and Qinetiq is a demonstration of our commitment to working with the UK's leading defence technology companies on FCAS," says Richard Berthon, the MoD's director future combat air. "Their expertise will be vital to the programme as we work at pace to deliver a next-generation combat air capability by 2035."
The UK-led FCAS effort – which also involves Italy and Japan, plus Sweden as an observer – will deliver a suite of future systems, including a manned Tempest fighter, due to be in operational use by 2035.
BAE Systems in July 2022 announced plans to fly a demonstrator for the sixth-generation manned fighter by mid-2027, with the asset now in manufacturing.

Craig Hoyle joined Flight International in 2003, and has edited the now monthly title since 2015. He has reported on the UK, European and international military aviation sector for more than 25 years, and produces our annual World Air Forces directory.
View full Profile