Qinetiq expects to perform expanded future flight trials work using its uniquely adapted Avro RJ100-based Airborne Technology Demonstrator (ATD), on the back of an initial success for partner BAE Systems.
Flown from its Boscombe Down site in Wiltshire on 7 July, the Qinetiq-owned asset, G-ETPL, was fitted with a 'combat aircraft nose system' or 'fast jet radome' for the activity.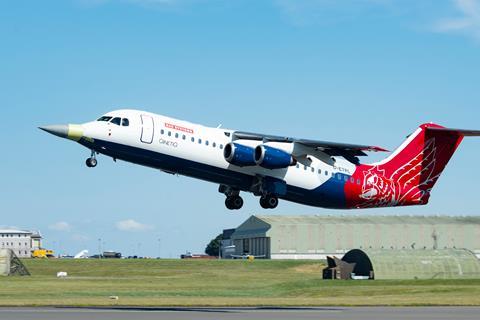 Full details have not been disclosed, but the installed nose resembles that used on the Eurofighter Typhoon. An updated version compatible with higher and broader bandwidth emissions is to be integrated with Tranche 3-standard aircraft for the UK Royal Air Force as part of the Leonardo UK ECRS Mk2 active electronically scanned array radar upgrade.
Using the flying testbed will enable BAE to "much more rapidly test, develop and prove new digital technologies, with particular focus on model-based systems engineering", says Steve Wynd, the airframer's engineering director – air sector.
In addition to extensive strengthening and reinforcement work performed beneath the quadjet's cockpit to accommodate the new structure, its cabin was also stripped to enable the installation of workstations.
"At the moment we have provision for six [workstations], but there's no reason you can't make that as many as will fit, or have none if that's what the customer would like," says Qinetiq programme manager Sam Gibbons.
Full flight-test instrumentation equipment captured all data from the recent one-off flight, says Kyle Alexander, Qinetiq's head of business development (air).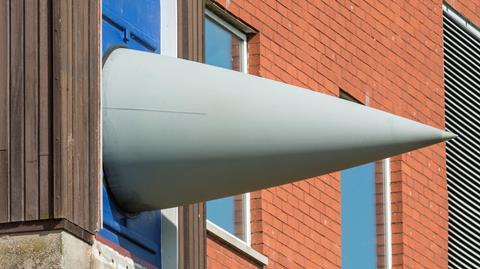 "The aircraft has been designed to be flexible," he notes, with the fighter radome installation having subsequently been removed and replaced with the RJ100's normal nose and weather radar "within a matter of hours".
"Transformed into a flying laboratory and classroom, the ATD provides power and data backbones and multiple flexible workstations to enable research and development projects to be quickly and easily integrated," Qinetiq says. This will enable it to support "specialist training, experimentation, air carriage, and test and evaluation activities", including "future radar and sensor integration capability".
"It has run a couple of smaller trials [previously]," Alexander says of the RJ100, without detailing the activities performed. "We have a number of potential uses and contracts, both with the MoD [UK Ministry of Defence] and industry, for test, trials and evaluation," he says. "We are working on a number of different opportunities to put it on contract for a significant flight-test programme."
However, "It is not limited to fast jet work, and it is not limited to BAE Systems," he told FlightGlobal on 11 August.
"If you can do 80% of your representative altitude test on a platform like the ATD… then you can minimise the delta of switching over and doing the final bit on an operational platform," Alexander notes. "The benefit to the customer, particularly if you are comparing a fast jet, is that you can have 20 people down the back, as opposed to one person in the cockpit."
The recent sortie was "conducted under Category 1 Flight Test and is the first trial of its kind in the UK for 30 years", Qinetiq claims. It holds design authority for modifications and flight approvals under its permit to fly, and Alexander notes that the work "fundamentally changed the [aircraft's] flight profile".
Meanwhile, Qinetiq has taken delivery of a newly acquired Beechcraft King Air 350, for use by its Empire Test Pilots' School.
The company says the asset "affords our students the opportunity to flight test a modern, systems-rich, multi-engine turboprop.
"Our King Air 350 features extensive performance and handling quality modifications from the stock King Air and comes equipped with a special mission fit that enables it to not only supplement the [Pilatus] PC-21 and RJ fleet but also extend our module offerings."
The platform also will be available to support broader test and trials activities, Alexander says.

Craig Hoyle joined Flight International in 2003, and has edited the now monthly title since 2015. He has reported on the UK, European and international military aviation sector for more than 25 years, and produces our annual World Air Forces directory.
View full Profile