Qinetiq has launched a new low-cost unmanned air vehicle (UAV) designed for swarming and collaborative operations such as manned-unmanned teaming.
Called Jackdaw, the platform will be available from the mid-2020s and will be capable of carrying a 30kg (66lb) internal payload supporting missions including reconnaissance, electronic warfare, airborne decoy and threat representation, the company announced at the DSEI show in London on 12 September.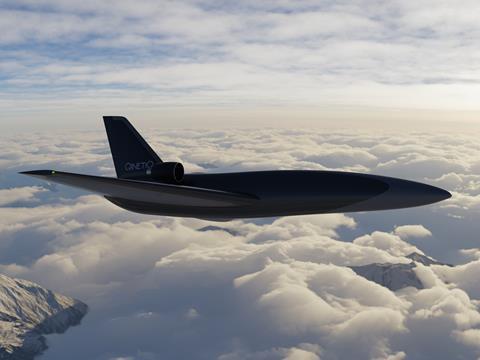 Qinetiq says the UK-developed UAV is designed to be reusable but is sufficiently low-cost that it can be considered a disposable asset, giving commanders more flexibility.
"The Jackdaw concept leverages Qinetiq's expertise in very low-cost, high-performance aerial targets – such as the Banshee family – and is enhanced with autonomous mission management and human-machine teaming capabilities," says Mick Andrae, global campaign director, robotics and autonomous systems, Qinetiq.
"This, combined with the very low-cost aerial target design philosophy, makes Jackdaw highly suitable for use as a disposable UAS in air, maritime and land domain applications."
Development of the Jackdaw's autonomous mission management system and human-machine teaming capabilities are currently under way; work on the platform itself will "commence shortly", the manufacturer discloses.
Additionally, an agreement is in place to explore the use of BAE Systems' autonomous goal-based mission management system on Jackdaw.
This will enable integration with open architectures in use with NATO partners and other allies, ensuring interoperability with existing and future crewed and uncrewed systems.
Qinetiq is targeting an in-theatre endurance of 3h for the Jackdaw, flying at up to 400kt (740km/h) and 30,000ft.

Dominic Perry is deputy editor of Flight International but also contributes extensively to flightglobal.com. Although specialising in the coverage of the helicopter industry, he has written on most topics in aerospace – be they commercial, defence or business aviation. In addition, there has been an increasing focus on the decarbonisation of the industry and zero-emission flight initiatives.
View full Profile