Qinetiq has committed to build its newly revealed Jackdaw swarming unmanned air vehicle (UAV) in the UK but is still developing the industrial strategy that will support eventual production.
Unveiled at the DSEI show on 12 September, Jackdaw has been spun out of Qinetiq's existing aerial target business and is being developed in collaboration with BAE Systems, which is providing the UAV's autonomous mission management system.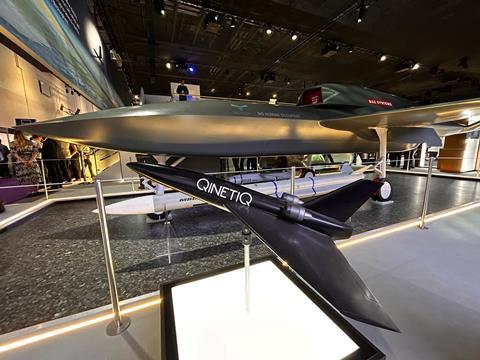 Qinetiq builds aerial target drones such as the Banshee family at a facility in Ashford, Kent, in the south of England and is weighing its options for the new type, says global campaign director, robotics and autonomous systems, Mick Andrae.
"We have not yet decided on a production facility – whether we use an existing site or ramp-up a new facility," he says.
However, he stresses it will "build Jackdaw in the UK" to leverage the company's existing production know-how.
This will be crucial if it is to keep the cost sufficiently low to allow the Jackdaw to be treated as a disposable asset, he says.
Andrae declines to disclose a unit cost for the platform but says it will be "in the realm" of high-end target drones costing "hundreds of thousands of pounds".
Designed for four main mission sets – reconnaissance, electronic warfare, airborne decoy and threat representation – it will be able to carry a 30kg (66lb) internal payload and offer a 3h in-theatre endurance.
Work on the airframe is still in its early stages, says Andrae, but the "physical architecture" will be "very similar" to previous target drone designs, albeit the Jackdaw will be a larger aircraft with a maximum take-off weight in the region of 400kg.
A conceptual design review is scheduled to be concluded in 2023, leading to "physical prototyping" next year.
Qinetiq has an engine supplier in place to support the development phase but is "looking across potential industrial solutions for high volume production of a low-cost jet turbine".
Although BAE Systems is responsible for the overall mission management, Qinetiq is developing other core elements of the system, including its human-machine teaming capabilities.
Andrae says there is already "significant customer interest in the programme", with key targets the AUKUS nations – Australia, the UK and USA – alongside NATO allies.
Qinetiq sees Jackdaw as part of a larger family of collaborative UAVs being developed by BAE Systems and Inzpire capable of swarming and manned-unmanned teaming operations. Service entry is targeted for the mid-2020s.
And why Jackdaw? "We were looking for a bird that hunted in packs, was small and had a reputation for creating chaos. We think it is an appropriate name for the battlespace effects we envisage," says Andrae.

Dominic Perry is deputy editor of Flight International but also contributes extensively to flightglobal.com. Although specialising in the coverage of the helicopter industry, he has written on most topics in aerospace – be they commercial, defence or business aviation. In addition, there has been an increasing focus on the decarbonisation of the industry and zero-emission flight initiatives.
View full Profile