The Royal Australian Air Force (RAAF) and Japan Air Self-Defense Force (JASDF) have confirmed the ability of the former's Airbus Defence & Space A330 Multi-Role Tanker Transport (MRTT) to refuel the latter's Boeing F-15J fighters.
The work was conducted in Japan from 29 March to 26 April and involved 11 flights and 325 contacts using the A330's boom, according to the Australian Department of Defence.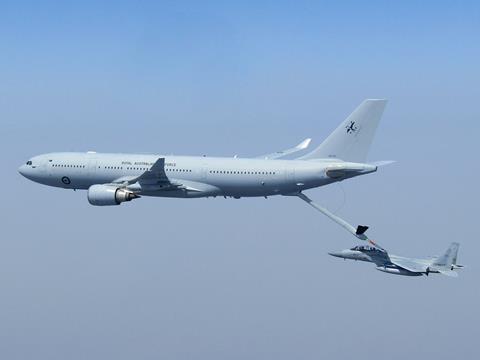 Tests were conducted over the Sea of Japan during both daylight and darkness "across a range of manoeuvres". Data from the trials will allow the RAAF to authorise and train crews to refuel F-15s in the future.
The air-to-air refuelling tests involved both the single seat F-15J and two-seat F-15DJ, with the A330 MRTT – designated KC-30A in Australian service – operating from Komaki air base.
"Cooperation between our air forces is dependent on overcoming great distances, and air-to-air refuelling is an essential part of how we accomplish this," says RAAF Air Commander Australia Air Vice-Marshal Darren Goldie.
The recent tests follow similar work in April 2022 that saw the RAAF's A330 MRTT conduct air-to-air refuelling tests with JASDF Mitsubishi F-2s. Goldie says that the April 2022 work enabled the F-2s to participate in Australia's Pitch Black air combat exercise, which took place in Australia from August to September last year.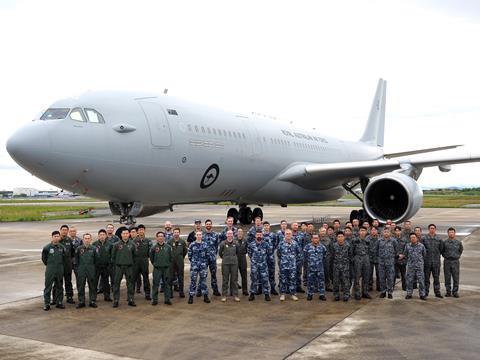 "The success of these latest refuelling trials reflects our commitment to building on our deep and enduring relationship, understanding each other's strengths, and further elevating our interoperability," adds Goldie.
"This cooperation and mutual understanding is an essential part of ensuring a secure, resilient and prosperous Indo-Pacific."
The RAAF operates seven A330 MRTTs. Cirium fleets data indicates that the JASDF operates 44 F-15DJs and 155 F-15Js, with an average age of 34.5 years. Seventy of Japan's F-15s are undergoing a major upgrade programme to improve their capabilities against advanced threats.