The Royal Australian Air Force (RAAF) has completed a series of upgrades to its fleet of Boeing P-8A Poseidon anti-submarine warfare aircraft.
The project was carried out by personnel from Boeing Defence Australia, Airbus Australia Pacific, the RAAF's 92 Wing, and the service's Surveillance and Response Systems Programme Office, says Australia's Department of Defence.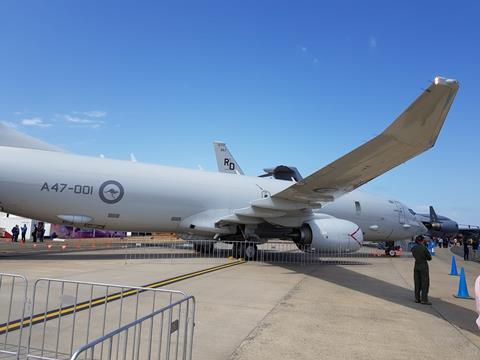 The final aircraft to undergo upgrade work was the P-8A bearing the registration A47-006.
"The P-8A fleet is now future-proofed and ready for the technical upgrades that lie ahead," says the commanding officer of 92 Wing, Group Captain John Grime.
"This tranche of modifications included wiring upgrades to expand and enhance the mission systems fitted to the aircraft and improve interoperability; as well as networking for air-to-air, air-to-ship and air-to-ground communications in support of the joint force. These modifications will position the P-8A Poseidon as the premium maritime surveillance aircraft in the world."
The P-8As are operated by the RAAF's 11 and 292 squadrons from RAAF Base Edinburgh.
Cirium fleets data shows that the RAAF operates 12 P-8As, a derivative the 737 airliner. In December 2020, Canberra announced an order for two more examples. It also has a letter of intent for a potential 15th P-8A.
In recent years the RAAF has placed a high premium on connectivity between assets and joint capabilities, both with other arms of the Australian military, but also with international partners, such as the USA.