The Royal Australian Air Force (RAAF) fleet of Lockheed Martin F-35As has reached 44 examples, following the arrival of three new aircraft from the USA.
The three aircraft are part of the RAAF's 77 Sqn, and transited to Australia from Eglin AFB, Florida, says Australia's Department of Defence (DoD).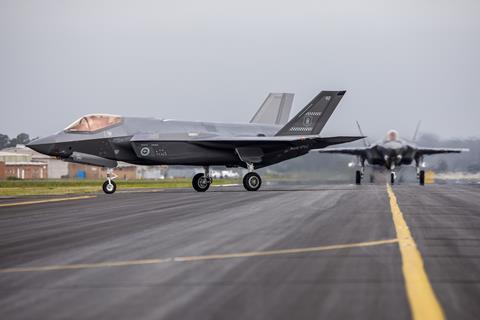 The ferry flight operation was dubbed Lightning Ferry 21-4, says the DoD. It involved a transit via the Pacific through Hickham AFB, Hawaii, to RAAF Williamtown, New South Wales, where the fighters will be based.
The activity marks the last RAAF F-35 delivery exercise for 2021. Overall, the RAAF is slated to receive 72 F-35As.
"Our focus in 2021 has been to stand-up an F-35A combat ready team," says 77 Sqn's Wing Commander Tim Ireland.
"The additional aircraft will help us generate a ready force able to integrate into a high-end all domain fight."
Prior to ferrying to Australia, the fighters were involved in Exercise Lightning Spear 21 at Eglin AFB, from 1-5 November. This operational test work focused on weapons integration.
"The consecutive activities of Lightning Spear and Lightning Ferry demonstrates 77 Squadron's agility and maturity at operating with our latest F-35A capability," he says.
Separately, the RAAF recently demonstrated the readiness of its Leonardo C-27J Spartan fleet with the simultaneous launch of seven aircraft from RAAF Amberley, Queensland.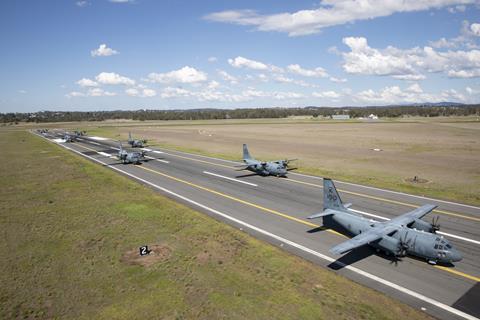 The RAAF claims it was the biggest simultaneous launch of C-27Js ever conducted, and that the operation highlighted the type's readiness.
Canberra operates 10 C-27Js. In July, the DoD changed the mission set of the C-27J fleet to disaster relief and humanitarian work.