The Royal Australian Air Force's (RAAF's) fleet of Lockheed Martin F-35As continues to grow, with 50 examples now based in Australia.
The number of F-35As in Australia hit 50 after the delivery of two examples from the USA following a ferry flight across the Pacific from Nellis AFB in Nevada, according to Australia's Department of Defence.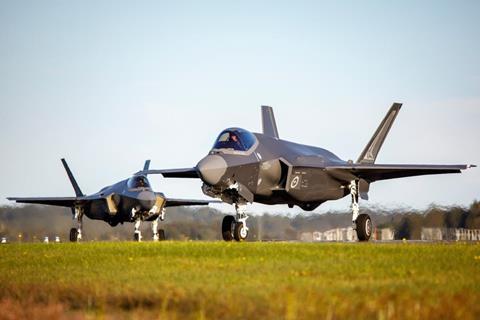 Prior to flying to Australia, the two aircraft participated in Exercise Black Flag 22-1 and integration work with the US Air Force's 422nd Test and Evaluation Squadron.
"Exercise Black Flag was a large force integration activity, which enabled us to operationally test our tactics and capabilities with the US Air Force [USAF]," says RAAF Wing Commander Adrian Kiely.
"Operationally representative scenarios such as Exercise Black Flag support the continuous development of our tactics, people and overall preparedness in highly demanding environments."
The focus of Black Flag was exploring ways for the RAAF and USAF to combine their capabilities against a "peer adversary" with a focus on an "advanced air-to-air threat".
A unit of the USAF's Air Combat Command, the 422nd Test and Evaluation Squadron conducts operational tests with aircraft and weapons entering the command.
Kiely adds that new opportunities are on the horizon for Canberra's F-35A fleet. As an example, he cites an exercise where RAAF F-35As will refuel at a forward air refuelling point provided by a US Air Force Lockheed HC-130J.
The first F-35As to be permanently based in Australia arrived in December 2018 with the arrival of two aircraft. Ultimately, the RAAF aims to operate 72 F-35As.