The UK Royal Air Force (RAF) has ended 30 years of operational use with its Boeing E-3D Sentry airborne warning and control system aircraft, having flown its last frontline sortie with the type in the Middle East on 30 July.
Conducted from RAF Akrotiri in Cyprus, the final operational mission was flown in support of Operation Shader; the UK's contribution to coalition activities to counter Daesh militants in Iraq and Syria.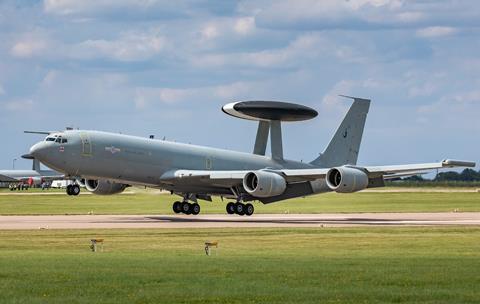 Two E-3Ds had been flown to Cyprus to support the UK Royal Navy's Carrier Strike Group 21 deployment, led by the aircraft carrier HMS Queen Elizabeth, completing 30 missions over a nine-week period, the RAF says.
"The Sentry was able to provide the recognised air and surface picture to the Carrier Strike Group to facilitate its safe transit from the Straits of Gibraltar to the Suez," says Wing Commander Victoria Williams, officer commanding the RAF's Sentry-equipped 8 Squadron.
The pair of surveillance aircraft returned to RAF Waddington in Lincolnshire on 2 and 4 August, respectively. The type will be formally retired from use "later this year", the service says. It originally operated a seven-strong fleet of CFM International CFM56-engined E-3Ds, with Cirium data showing just three as still active.
Following its introduction to service in 1991, the Sentry was deployed in support of the RAF's involvement in the first Gulf War. The type also was committed to campaigns in Afghanistan, Iraq, Libya and the Balkans, during air defence of the UK, and in countering drug-smuggling in the Caribbean.
"Whether operating from their home base at Waddington or airfields from across Europe and the broader Middle East, Sentry has contributed by providing a recognised air and maritime picture that has enabled others to operate with significant freedom of action against the most hostile of threats," says Air Commodore Nicholas Hay, commander of the RAF's intelligence, surveillance, targeting and reconnaissance force.
The Sentry's duties will from 2023 be assumed by three Boeing 737-based E-7A Wedgetail airborne early warning and command and control aircraft, to be based at RAF Lossiemouth in Scotland.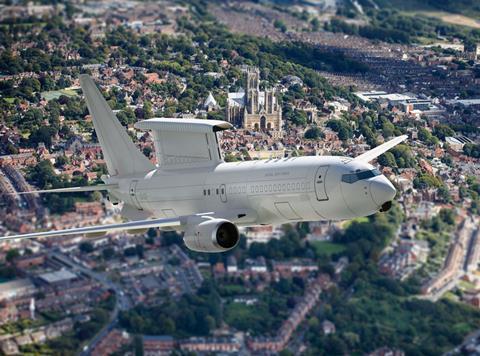 During this period of capability gap, "intelligence, surveillance, targeting and reconnaissance requirements will be covered by a combination of other aircraft and E-3s from our NATO partners", the RAF says.
One of the service's surplus E-3Ds has been acquired by the US Navy for $15 million, while the UK's Defence Equipment Sales Authority in December 2020 began a search for buyers for two non-operational airframes offered for scrappage.