The UK Royal Air Force (RAF) has declared full-service capability with its pair of Dassault Aviation Falcon 900LX VIP transports, operated from its Northolt base near London.
Employed in the Command Support Air Transport role, the trijets have replaced two British Aerospace BAe 146-100s which were withdrawn from use in April 2022.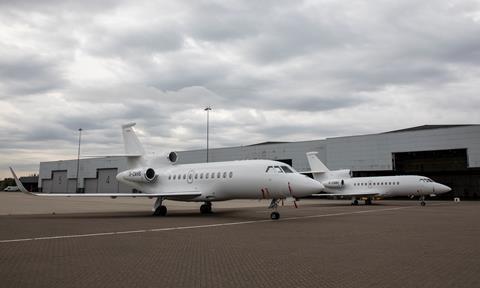 A first operational flight with lead aircraft G-ZAHS was performed on 7 June, and the full-service milestone achieved with the availability of the second jet – G-ZABH – at RAF Northolt. The service has adopted the designation Envoy IV CC1 for the type, which has been introduced following an £80 million ($98 million) acquisition announced last February.
"The aircraft provides assured, secure, timely and discreet air transport of high priority military personnel and small items of mission critical freight to, from and within operational areas," the RAF says.
Initially crewed by a mix of RAF and civilian personnel via a bridging arrangement with Bristol-headquartered Centreline AV, the aircraft will be transferred onto the UK Military Aircraft Register in April 2024. They also will receive a package of "military upgrades" at this point, including gaining a modified communications suite and defensive aids system equipment.
The RAF says the Envoy IV will be able to fly 4,750nm (8,790km) nonstop "with eight people on board", including three crew members, or transport a maximum of 14 passengers.

Craig Hoyle joined Flight International in 2003, and has edited the now monthly title since 2015. He has reported on the UK, European and international military aviation sector for more than 25 years, and produces our annual World Air Forces directory.
View full Profile