The UK Royal Air Force (RAF) is exploring multiple pathways to reducing its environmental impact, with initiatives ranging from the planned introduction of electrically-powered light training aircraft to the "flight-free certification" of future combat assets.
Introducing a sustainability session during the virtual Farnborough Connect event on 13 July, minister for defence procurement Jeremy Quin said the Ministry of Defence accounts for 50% of all emissions made by UK central government departments, with the RAF's Air Command alone responsible for 41%.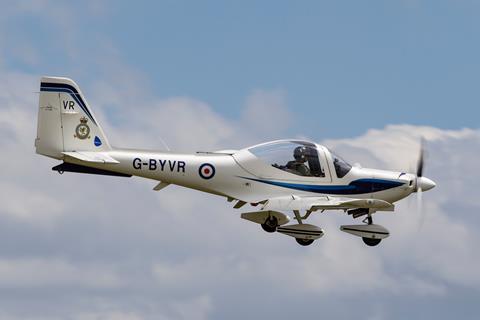 Speaking during the same forum, RAF deputy commander Air Marshal Andrew Turner said a broad range of measures are already being explored in order to reduce the service's environmental footprint, including investing in the production of sustainable aviation fuel (SAF). This drive is being made in support of the UK government's commitment to achieving net-zero carbon emissions by 2050, but also offers operational benefits, he adds.
"We are going to endeavour to fly a 100% SAF-powered aircraft this side of Christmas, and move that fleet to 100% SAF in about two years' time," Turner says, without identifying the type involved. Flying the service's current assets with a 50:50 mix is already possible.
The RAF recently made an investment in a private company which has demonstrated the production of jet fuel from apples and lavender, with a laboratory product "more stable than jet fuel", Turner says. He notes, however, that today SAF typically costs around four-times as much per litre than Jet-A1 fuel, and that broader adoption of the technology is needed to close this price gap. "We need a momentum in society to be demanding of change such that airlines – the whole industry – moves in this direction," he adds.
Turner says the RAF also is "driving very hard at making the Red Arrows' [coloured] smoke sustainable"; the aerobatic display team currently uses diesel and dye to achieve the effect.
The service is also looking to declare at least one of its bases net-zero by 2025, with the goal of over time having such facilities become net contributors to the national grid, through generating power by solar, heat pumps and wind.
"We believe that through these mechanisms, relatively rapidly we can generate substantially more power than our bases currently consume," he says.
Other measures are also being considered, such as the idea of replacing grass next to runways with moss, which has much greater carbon-capture characteristics. Such a step also would remove the need for regular machine-mowing, and could reduce wildlife-related hazards.
But in one of the most visible signs of change for the RAF, Turner reveals that it is investigating the acquisition of electric-powered aircraft to replace its Babcock-operated Grob Aerospace Tutor T1 fleet, which is used for elementary flight training and to provide air experience flights for cadets and instruction for university air squadron students.
"We will have a competition," Turner says, with the ambition of fielding a new type "before the end of this parliament, or early in the next". The next UK general election is due no later than May 2024. He adds: "If battery technology moves faster then we will move with it."
He also sees a potential for using electrically-powered swarming drones, "for base security, or in a combat and operational sense to hazard an adversary's systems".
Turner also believes it will be possible to achieve "flight-free certification" of the UK's Tempest future combat air system and Mosquito loyal wingman, thanks to the use of digital-twin technology. This will enable test flights to be conducted only to validate software modelling, which also offers an operational advantage to the military. He notes: "there will be components or facets – signature particularly – that we simply don't want to show in the public domain, because it will compromise its capabilities" to potential adversaries.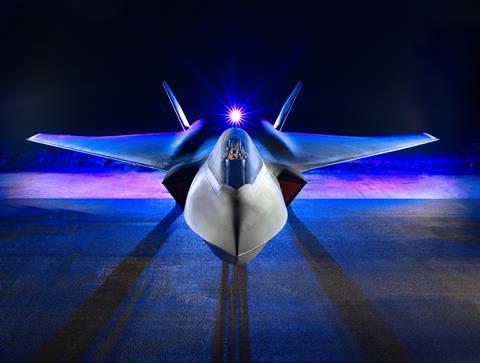 Quin identifies the UK's broader Future Combat Air System initiative as an example of a defence programme "providing brilliant opportunities to innovate low-carbon technologies and pioneer climate-mitigation methods".
"Defence is faced with a unique set of challenges – to develop capabilities that match the evolving threat in increasingly severe conditions" and in line with carbon emission-reduction goals, Quin says. "How do we adapt our current aircraft fleet to ensure greater efficiency doesn't come with a reduction in effectiveness?"