The UK could push back the retirement of the Royal Air Force's (RAF's) fleet of Puma HC2 transport helicopters to 2027 or even 2028 amid slow progress acquiring a replacement.
Under the Ministry of Defence's (MoD's) 2021 Command Paper, the Puma fleet – in service since the mid-1970s – was set to be phased out as early as 2023 and replaced with a type to be acquired through the New Medium Helicopter (NMH) programme.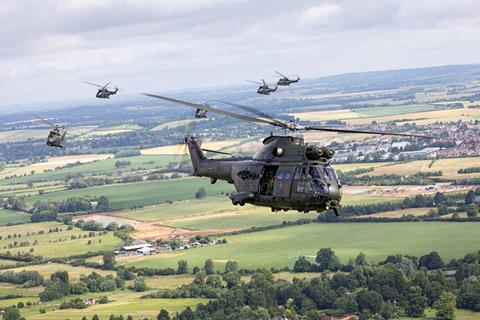 However, the retirement was subsequently delayed until 2025 to allow the Pumas to cover for two now departed Bell types operated in Brunei and Cyprus.
But giving evidence on 17 May to the House of Commons Defence Select Committee – which is conducting an inquiry into aviation procurement – Air Marshal Sir Richard Knighton said the retirement could move again.
"It could be extended still further out to 2027 or 2028, that kind of timeframe, but that decision has not been taken yet.
"That will be dependent on the progress with the New Medium Helicopter competition but also the options to replace Puma in Cyrpus and Brunei."
A further extension of the Puma's life would be "feasible" if required, he adds.
But the acquisition of a replacement through NMH is proceeding slowly. When the MoD first issued a request for information on the programme in late 2021, a winner was due to have been selected in 2023.
The three bidders remaining in the competition were notified last autumn that they had been shortlisted, with an invitation to negotiate – the next step in the tender process – expected to have been issued by the end of the first quarter, a date that subsequently slipped to mid-year with contract award anticipated in 2024.
But giving evidence to the committee, James Cartlidge, minister for defence procurement, said he could not say when he expected a contract to be issued or when the NMH might achieve initial operational capability, citing the live nature of the procurement.
However, the NMH programme is "not something we have dropped", he insists.
Cartlidge denied the suggestion of select committee member Sarah Atherton MP that officials at the UK's DE&S defence procurement body were "frustrated by the lack of procurement process" on the NMH, with go-ahead for the next stage still waiting for sign-off.
Under NMH, the UK hopes to acquire up to 44 helicopters to replace the RAF's Puma fleet, plus three other types. Contenders are the Airbus Helicopters H175, Leonardo Helicopters AW149 and Sikorsky S-70M.

Dominic Perry is deputy editor of Flight International but also contributes extensively to flightglobal.com. Although specialising in the coverage of the helicopter industry, he has written on most topics in aerospace – be they commercial, defence or business aviation. In addition, there has been an increasing focus on the decarbonisation of the industry and zero-emission flight initiatives.
View full Profile