The first of 14 UK Royal Air Force (RAF) Lockheed Martin C-130J-30 tactical transports to undergo a life-extending centre wingbox replacement has been returned to squadron use at the service's Brize Norton base in Oxfordshire.
Performed at UK C-130J design authority Marshall Aerospace and Defence Group's Cambridge airport site in the east of England, the work "will enable the RAF fleet to remain in operation until 2035 and beyond", the company says.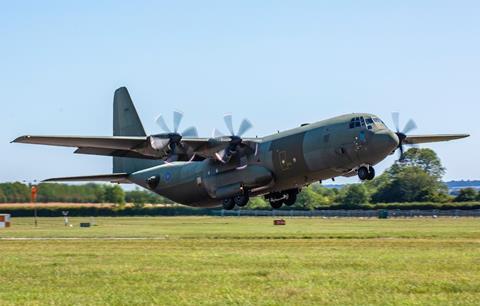 The UK Ministry of Defence (MoD) placed a £110 million ($144 million) contract in July 2017 for the modification, which is conducted using Lockheed-produced kits. The structural enhancement "extends the service life of the centre wingbox by up to three times", Marshall says.
A 23-year-old example, the lead C4-model airframe (ZH867) underwent the work "in parallel with scheduled maintenance, to maximise fleet availability", the company says. "Modification of the second aircraft is already well under way," it adds.
Separately, Marshall in late July transferred a former RAF-owned C-130J to its new owner the US Navy, for use in support of its Blue Angels demonstration team.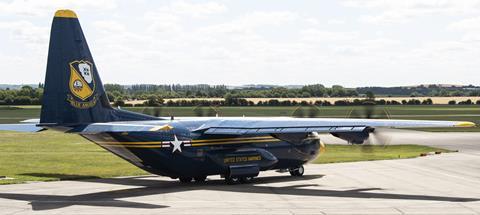 Having undergone depth maintenance, minor modification and repainting in the UK, the transport (now registered 170000) arrived in Fort Worth, Texas on 4 August. It will be based at NAS Pensacola in Florida, and employed starting from the Blue Angels' 2021 display season.
Cirium fleets data shows that the short-fuselage C-130J was introduced to service by the RAF in 2001, as a C5-model transport (ZH885).
Having retired all its Hercules C5s from use, the UK MoD has also sold Marshall-prepared secondhand examples to the air forces of Bahrain and Bangladesh.