UK military test activities with the battery-powered Pipistrel Velis Electro light aircraft are entering a third and final phase, facilitated by training provider Affinity.
Initiated by the company in late 2021, the exploration into zero-emission flight operations earlier this year progressed to Royal Air Force (RAF) testing performed at Cranwell in Lincolnshire.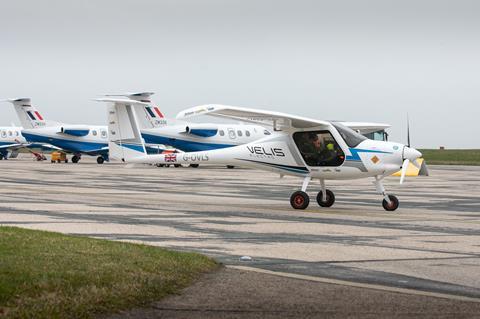 Elbit Systems UK/KBR joint venture Affinity Flying Training Services sourced the Slovenian-built Velis Electro and granted the Ministry of Defence (MoD) six months' access to it, with maintenance support provided by Eastern Airways.
Service test pilots were able to fly the aircraft from March, before launching a two-week campaign involving three flights per day from Cranwell.
"The purpose of that was around how you would fit this novel technology into what is quite a traditional aviation setting," says Affinity managing director Iain Chalmers. The base also is home to Grob Aircraft G120TP Prefect and Embraer Phenom 100 training assets.
"All of that [flight-test] data is MoD IP [intellectual property]," Chalmers notes, so as to not prejudice any potential Affinity bid for the RAF's project Telum requirement. This seeks to replace by 2027 the G115E Tutor T1s currently used for university air squadron and cadet air experience flights.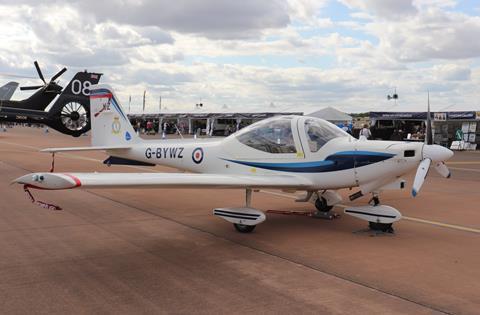 "The aspiration for the MoD is that the [Telum] programme should be carbon-neutral at the point of delivery," says Chalmers, with battery- or hydrogen fuel cell-powered candidates potentially to be considered.
"It's exciting to be involved in it," Chalmers says of the emission-free experimentation with the Velis Electro. "To go flying in this thing is absolutely incredible," he adds.
"In the last [experimentation] phase, they are going to spend a lot of time looking at how the batteries operate in different conditions and at different power settings," he says. Information gathered during this process will help to inform the service's formal requirements for the Tutor replacement.
Contracted in February 2016 to deliver services via the UK Military Flying Training System, Affinity provides and supports 23 G120TPs, 14 Beechcraft T-6Cs and five Phenom 100s, respectively for elementary, basic, and multi-engined crew training. Pilot instruction using the fleet commenced from 2018.
"We are now into a business improvement phase," Chalmers says of the training service. This process is to include incorporating an over-torque protection system for the G120TP, for example.
"The Texan is just reliable," he says of the T-6C fleet based at RAF Valley on Anglesey, north Wales. "We are pretty much on nine or 10 [aircraft] a day, every day."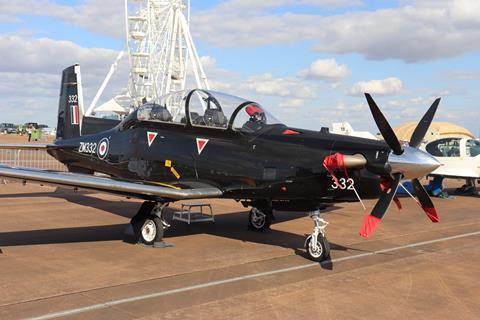 Two of the Phenoms are currently undergoing five-year phased maintenance, and the type is delivering "really high dispatch rates", Chalmers told FlightGlobal at the Royal International Air Tattoo (RIAT) on 15 July.
Rolls-Royce, meanwhile, exhibited its record-breaking Spirit of Innovation at RIAT. Developed under the ACCEL project, this became the world's fastest all-electric aircraft last year.
The ACCEL work was "able to demonstrate that batteries were able to fly in an aerospace environment as part of the propulsion system", but it will need "engineering between now and [2027] to be able to offer an equivalent range" to the RAF's Tutor platform, says Rolls-Royce Electrical customer business director Matheu Parr.
"Replacing the Tutor, you would need an electric aircraft that's aerobatic with relatively high cruise speed, and you can't buy that on the market today," he says.
"We are talking to quite a few airframers about this sort of opportunity. We are seeing good levels of interest," Parr says. "The whole two-seater trainer market is an exciting opportunity for electrification."
Using today's battery technology with an aircraft to achieve service entry in 2025 would allow a 1h flight with 30min reserve, says Parr, who adds: "Battery technology still needs another iteration to reach 3h."
Noting that air experience flights with the Tutor are relatively short in range and duration, he suggests that a replacement fleet could be split between using electric and conventional powertrains, with the latter upgraded as batteries improve over time.
"That allows you to perform longer-range missions from day one," he says.
Parr sees a power requirement to use roughly 120kW motors in place of a 150hp engine. R-R's Spirit of Innovation used a trio of 120kW YASA motors, but the airframer has developed its own general aviation electrical propulsion unit with around the same output.
Additional reporting by Dominic Perry

Craig Hoyle joined Flight International in 2003, and has edited the now monthly title since 2015. He has reported on the UK, European and international military aviation sector for more than 25 years, and produces our annual World Air Forces directory.
View full Profile