Rafael has used the Paris air show to unveil a new long-range air-to-air missile named Sky Spear.
Describing the weapon as a "6th-generation" design, the Israeli company claims it will provide operators "unparalleled operational capabilities in the complex arena of aerial combat".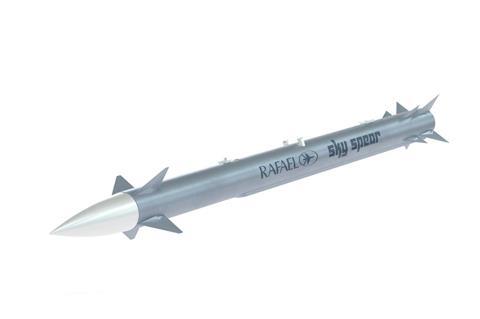 "The Sky Spear is designed to engage targets at long ranges, ensuring that opponents are overwhelmed before they have a chance to launch," Rafael says. A new radar seeker and undisclosed additional technologies "allow for early lock-on, and a more accurate end-game".
Displayed on the company's stand, the Sky Spear is similar in size to the company's I-Derby ER beyond-visual-range air-to-air missile.

"Rafael is confident that this newest missile will provide the advanced capabilities that will provide users a qualitative edge over their most capable adversaries," says Brigadier General (Reserve) Pini Yungman, head of the company's air and missile defence directorate.

Craig Hoyle joined Flight International in 2003, and has edited the now monthly title since 2015. He has reported on the UK, European and international military aviation sector for more than 25 years, and produces our annual World Air Forces directory.
View full Profile