A Protector RG1 remotely piloted air system has made its first flight from the Royal Air Force's (RAF's) Waddington base in Lincolnshire, just weeks after the lead example of the General Atomics Aeronautical Systems type had been delivered to the UK.
Announcing the development on 17 November, the RAF says the intelligence, surveillance and reconnaissance asset "is undergoing a series of rigorous trials and tests" before entering active use in 2024.
For its first flight in UK airspace, the air vehicle – which has the registration PR009 and 31 Sqn markings – "taxied and flew a series of circuits around RAF Waddington airfield, at all times under the control of a pilot through its ground-based advanced cockpit", the service says.
Being acquired to replace its General Atomics MQ-9A Reapers, the RAF's eventually 16-strong Protector fleet will differ from the in-service type by being able to operate routinely in non-segregated airspace. For combat use, the type will be armed with MBDA Brimstone 3 air-to-surface missiles and Raytheon Paveway IV 226kg (500lb) precision-guided bombs.
The RAF says its new aircraft has a flight endurance of up to 40h, with the type able to operate at an altitude of 40,000ft.
Also home to the RAF's Boeing RC-135W Rivet Joint and Raytheon Shadow R1 surveillance aircraft, Waddington will house ground control stations for the unmanned type.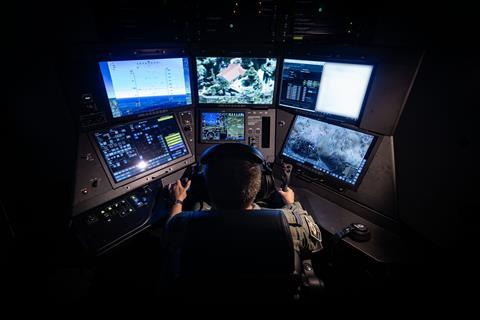 "We will now build on this success and look forward to the next test and evaluation phase as part of our preparations for in-service date later next year," says Group Captain Al Rutledge, the RAF's Protector programme director.
The RAF expects to have its full fleet of Protectors in operational use by July 2025.

Craig Hoyle joined Flight International in 2003, and has edited the now monthly title since 2015. He has reported on the UK, European and international military aviation sector for more than 25 years, and produces our annual World Air Forces directory.
View full Profile