Raytheon and its subsidiaries posted declines across a wide portfolio of military aviation products in the third quarter of 2022 despite rising defence spending around the world.
In a quarterly earnings call on 25 October, executives with the sprawling manufacturer, whose holdings include engine maker Pratt & Whitney, avionics producer Collins Aerospace and a precision munitions division, said sales declined year-over-year across their various defence products.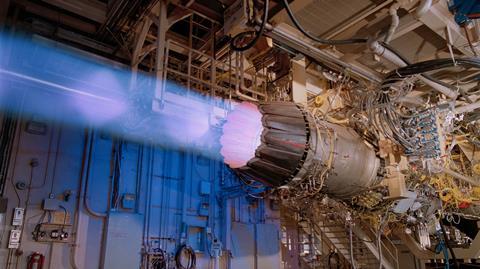 However, those falling sales were not driven by a lack of interest in defence equipment.
"It's about labour availability and some of the supply chain challenges," says chief executive Gregory Hayes. "We saw stabilisation here in the third quarter in the supply chain."

Raytheon's missiles and defence segment saw sales drop 6% year-on-year in the third quarter, to $3.7 billion, the company reports.

While P&W and Collins both posted double-digit sales increases, those gains were driven by commercial sales. Engine maker P&W saw a 2% decline in military sales, while Collins logged a 6% drop in defence sales.
This comes, paradoxically, as Hayes says demand is surging for the type of defence products Raytheon manufacturers.
"The elevated threat environment has significantly influenced how the US and our allies are thinking about their defence capabilities and readiness. This has driven global defence budgets… substantially higher," Hayes notes.
He points to greater interest in advanced air defence systems following Russia's invasion of Ukraine, and new orders for Lockheed Martin F-35 fighters from Switzerland and other European countries.
Raytheon's P&W produces F135 engines that powers the advanced fighter. The company's precision missile division produces the National Advanced Surface to Air Missile System (NASAMS), in conjunction with Norway's Kongsberg, which the USA has been providing to Kyiv.
The executive team cites lower-than-expected sales of F135s as the main reason for under performance in P&W's defence sales. The engine company delivered 49 military aircraft engines in the third quarter, down from 58 in the same period last year.
They attribute the divergence between demand for and sales of defence materials as being caused by lingering supply chain and labour issues, which are hampering production.

"That lack of productivity has principally been driven by the delay in material receipts, which is obviously jamming up the production and development cycles within the business," says chief financial officer Neil Mitchell.
He expects those issues will be resolved by mid-2023 for both Collins and P&W.
Hayes adds that many newer Pentagon contracts have lower margins than those for older systems under full-rate production, predicting "margin degradation" for the next several years until new contracts transition out of low-rate production.
He also says "headwinds" – including from inflation and the company's withdraw from Russia following its February invasion of Ukraine – have cost Raytheon around $700 million in additional expenses and lost revenue this year.
Despite current production challenges, Raytheon boasts a deep $12 billion backlog of orders across all its businesses. Hayes says the company will reinvest $9 billion to sustain growth and fund research and development.