Despite rising military spending globally and "strong demand" for its products, Raytheon Technologies says inflation and supply chain constraints continue to hamper growth in its defence portfolio.
Speaking during a quarterly earnings call with investors on 24 January, executives with Raytheon, parent of engine maker Pratt & Whitney (P&W) and aviation systems producer Collins Aerospace, said Raytheon's defence business will continue to face elevated labour costs and material shortages for at least the first six months of 2023.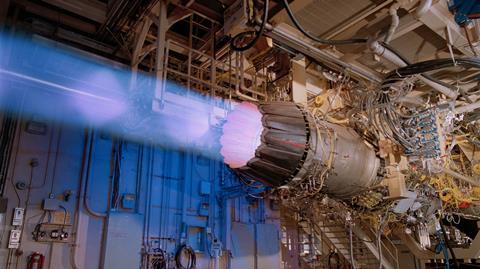 "We are assuming a back-half recovery," says chief operating officer Christopher Calio.
He adds that Raytheon expects to absorb an extra $2 billion in inflation-related costs in 2023 due largely to higher labour and material expenses. Chief executive Gregory Hayes notes that labour costs alone were up 4% year-on-year at the end of 2022.
Calio cites castings, rocket motors and microelectronics as three inputs that have proven particularly challenging.
The executives say supplies of those components have begun to stabilise, particularly as newly hired workers gain proficiency, but prices remain elevated and availability has not returned to 2019 levels.
Those bottlenecks are reflected in the financial performance of Raytheon's two defence-heavy segments: Raytheon Missiles & Defense (RMD) and Raytheon Intelligence & Space (RIS).
RIS, which produces air-combat sensors including active electronically scanned array radars that are integral to advanced fighter jets, posted a 6% year-on-year drop in sales for all of 2022 and a 27% decline in operating profit.
RMD, which produces many of the precision-guided munitions predicted to be a deciding factor in any near-peer conflict, also saw slumping revenue. The missile segment saw a 4% year-on-year decline in full-year sales, though sales in the fourth quarter were up 6%. Operating profit for RMD was down 24% compared to 2021.
Despite the challenges, both RIS and RMD posted strong 2022 profits of $1.3 billion and $1.5 billion, respectively.
This reflects what Hayes describes as "strong demand" for Raytheon's products and a large backlog of orders. Calio says the company's defence backlog is approximately $70 billion.
"Demand drivers for our business remain incredibly strong," says Hayes. He notes that several of Raytheon's defence programmes will transition over the coming year from low-rate initial production, which typically come with lower delivery prices, to more lucrative full-rate production.
By contrast, the commercial aviation-heavy divisions of Collins and P&W both saw significant increases in sales and profit in 2022.
When asked why defence sales are lagging despite large increases in military spending globally, Hayes says he believes RMD has "more growth potential" than any Raytheon segments excluding Collins going into 2024.
Still, the executive team is taking a conservative view of 2023 due to inflation and supply chain issues.
"The demand is out there for more," says Hayes. He predicts more growth will come in 2024, when the company expects the supply chain will return to the pre-pandemic state.