Raytheon Missiles & Defense has been awarded a $972 million contract to deliver its F3R-standard AMRAAM air-to-air missile to the US military and 19 international customers.
Announced on 30 August, the Lot 36 production deal covers the supply of AIM-120D3 and AIM-120C8 missiles, which feature updates developed via a so-called Form, Fit, Function Refresh (F3R) activity. These have included replacing legacy software and installing new circuit cards in the weapon's guidance section, the manufacturer says.
"These missiles… have the most advanced hardware and software needed to compete with peer adversaries," says Paul Ferraro, president of air power for Raytheon Missiles & Defense. "This contract underscores the importance of AMRAAM in the warfighters' arsenal," he adds.
Deliveries will conclude by 30 August 2025, the US Department of Defense (DoD) says in a contract notification.
In addition to the US Air Force (USAF) and US Navy, other recipients will be Foreign Military Sales customers Australia, Bahrain, Bulgaria, Canada, Denmark, Finland, Hungary, Italy, Japan, the Netherlands, Norway, Qatar, Saudi Arabia, Singapore, Slovakia, South Korea, Spain, Switzerland and the UK. The DoD says international sales represent 42% of the Lot 36 production run by contract value: almost $405 million.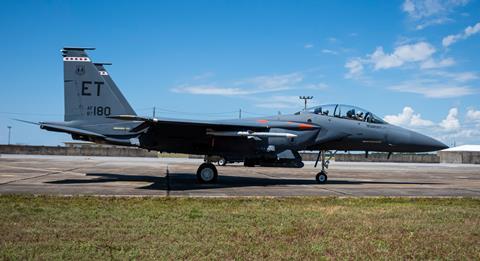 A first live-fire test of a production AIM-120D3 F3R was performed on 30 June from a USAF Boeing F-15E, and Raytheon says "there are two additional live fires planned for 2022".
Craig Hoyle joined Flight International in 2003, and has edited the now monthly title since 2015. He has reported on the UK, European and international military aviation sector for more than 25 years, and produces our annual World Air Forces directory.