Boeing P-8A Poseidon martime patrol aircraft of the Royal New Zealand Air Force (RNZAF) are starting to have an impact regionally, including a long-range mission to locate a lost fishing boat.
Three Fijian fisherman had been lost at sea for nine days when Suva requested Wellington's help in locating them, according to the RNZAF.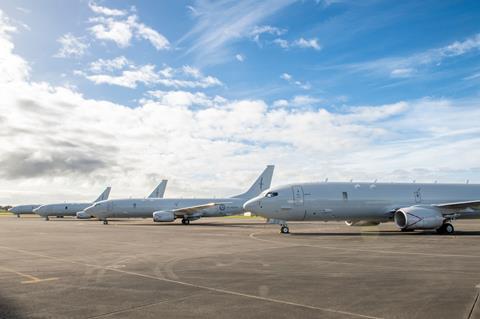 The last known contact with the fisherman had occurred on 2 October, when they reported having problems with their engine. They also lacked locator beacons and communications equipment.
Weather data and oceanic currents were assessed to determine the vessel's likely direction of drift and identify a search area.
On 11 October a 5 Sqn P-8A commenced a radar and visual search in the morning and found the fishing boat in the afternoon. It vectored nearby vessels to assist and loitered in the search area until another vessel was close enough to rescue the crew.
RNZAF Air Commodore Andy Scott says the search was extremely challenging given the vast search area and the extended time since contact was lost with the fishing vessel.
"The P-8 is proving itself a highly effective and responsive asset to support the people of New Zealand and our Pacific neighbours and was no doubt an incredibly welcome sight for the people on board the fishing vessel," says Scott.
An RNZAF P-8A was also involved in an August surveillance operation for the Pacific Forum Fisheries Agency.
The work saw the aircraft flying for a total of 44h and covering 1.8 million square km of sea. The crew reported the activities and positions of 68 vessels.
Meanwhile, a former RNZAF P-3K2 is undergoing work in Christchurch prior to induction into the Air Force Museum of New Zealand.
The RNZAF retired its last three P-3K2s in February, five months earlier than planned. This created a brief capability gap because the P-8A capability had yet to fully mature. The service helped fill the gap with other types, such as the Lockheed Martin C-130H.