A US Navy (USN) Boeing P-8A Poseidon maritime patrol aircraft has crashed into the sea after attempting to land at a military base on the Hawaiian island of Oahu.
"At approximately [14:00 local time] a US Navy P-8 Poseidon overshot the runway on landing at Marine Corps Air Station Kaneohe Bay, and ended up in nearby water," says the USN.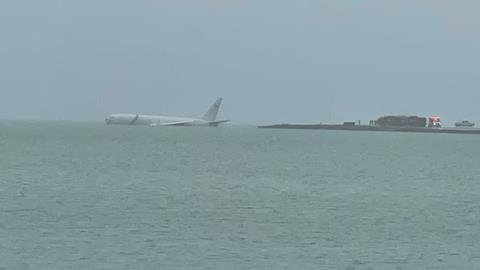 It adds that all personnel safely evacuated. Local media reports suggest that nine personnel were aboard the 737-derivative, and that the weather was poor at the time of the accident.
Images on social media suggest the aircraft is in Kaneohe Bay. The Marine Corps Air Station has a single 2,369m (7,772ft) runway, 4/22. Runway 4 abuts the bay, runway 22 the Pacific Ocean.
"First responders and emergency crews acted immediately to conduct an initial assessment and employed a temporary floating barrier, which is used to protect the environment," adds the USN.
"An investigation will be initiated. More details will be released as they become available."
The aircraft is based in Whidbey Island, Washington and is assigned to the Patrol Squadron 4 – the 'Skinny Dragons'. It is on detachment to Hawaii in support of "maritime homeland defence".
Cirium fleets data indicates that the USN operates 123 P-8As. Globally there are 168 in service. Other operators include Australia, India, New Zealand, Norway, South Korea and the UK.