The Royal New Zealand Air Force (RNZAF) replaced a faulty propeller on a Lockheed Martin C-130H tactical transport in sub-zero temperatures in Antarctica.
The aircraft had flown to Phoenix Airfield carrying New Zealand prime minister Jacinda Ardern and other officials, says the RNZAF.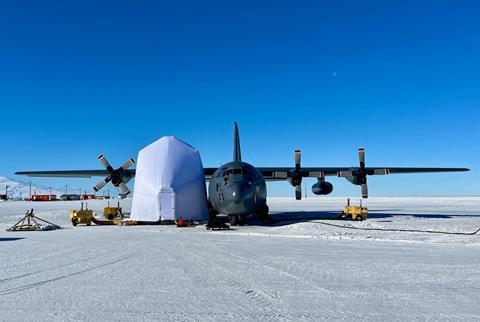 Ardern's Facebook page indicates that the visit occurred in late October. She was in Antarctica for the 65th anniversary of Scott Base.
As the aircraft powered up to return to New Zealand, a "significant hydraulic leak from the propeller" was identified, and there was smoke inside the cabin. The crew determined that the propeller for the Rolls-Royce T56 engine would need to be replaced.
Within 36h of the initial notification, spares, tools, and a nine person maintenance crew from No. 40 Squadron flew to Christchurch, where they boarded a US Air Force Boeing C-17 strategic transport to Antarctica.
"Changing a C-130H propeller is a big job at the best of times, but when you add extreme cold (averaging -17°C ambient and -29°C wind chill), icy surfaces, wearing ski goggles, limited equipment and communication, the task becomes significantly more challenging," says the RNZAF.
"These human factors all stacked-up to make the risk of error or accident much higher than usual, which needed to be actively managed by the whole team involved."
The work to replace the propeller was conducted in an ice shelter, which afforded protection in the "brutally cold conditions". The New York Air National Guard, which operates an LC-130H at Antarctica's Williams Field, also provided equipment and support.
Three days after work started on the propeller, a fresh aircrew arrived and taxied the aircraft to engine test locations – there was no towing equipment available. Several days of engine runs and other maintenance followed.
Finally, 11 days after the initial failure, the aircraft returned to New Zealand.
Cirium fleets data indicates that the RNZAF operates five C-130Hs with an average age of 56.2 years.
In June 2020, Wellington approved the acquisition of five C-130J-30s.