The UK Royal Navy (RN) is pushing ahead with the development of a trio uncrewed rotary-wing systems – Peregrine, Proteus and Primus – viewed as "pathfinders" for the future introduction of next-generation pilotless aircraft.
However, it sees these as adding to, rather than replacing, its current fleet of conventional helicopters.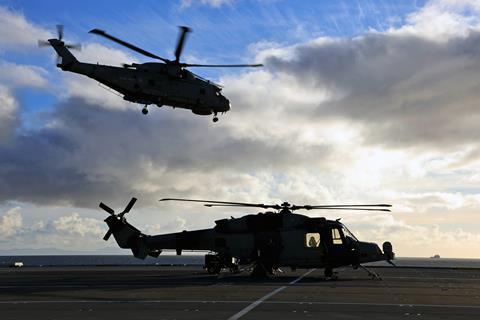 Rear Admiral James Parkin, Royal Navy director develop, says as part of an overarching shift in "philosophy" the service is increasingly focused on the "integration of the most modern systems into the fleet air arm as soon as possible".
Highlighting the loyal wingman or remote carrier unmanned aircraft being developed to augment costly and complex manned sixth-generation fighters, Parkin suggests the same dynamics hold true for other operations.
"The requirement for additional mass is no less important in the maritime rotary-wing sphere – embracing autonomy where possible is the right step to achieving this mass," said Parkin, speaking at Defence IQ's International Military Helicopter Conference in London on 21 February.
New capabilities like Peregrine and Proteus are "pathfinders in this journey and the first tangible examples of the future maritime aviation force".
Announced in early 2023, Peregrine addresses an urgent capability requirement for persistent surveillance from RN frigates deployed in the Gulf.
To be fielded from 2024, Peregrine sees the integration of a Schiebel S-100 Camcopter – fitted with a Thales I-Master radar – into the combat management system of RN Type 23 frigates. It will work alongside embarked Leonardo Helicopters Wildcat HMA2 rotorcraft.
Although the Wildcat will remain the "backbone" of the navy's "ship-embarked maritime aviation force for years to come", costs and endurance limitations require an additional platform to deliver round-the-clock surveillance, he says.
The Peregrine aircraft itself is "not a particularly ground-breaking system", Parkin says, "but what makes it exciting to us is its integration into the ship itself: it is the first time we are able to have an airborne system that is as part of the ship as the radar on top of the main mast."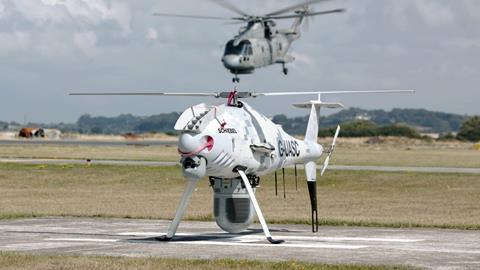 Parkin sees that as Peregrine and successor systems mature "within 10 to 15 years we will be able to deliver most of our airborne findings from other uncrewed systems such as this". The RN is also "working towards delivering strike capabilities using similar platforms", he adds.
Peregrine will not replace Wildcat but "augment" its capabilities: "We can reserve our expensive but supremely capable crewed aircraft for the missions only they can do," he adds.
Similarly, the Leonardo Helicopters AW101 Merlin HM2 "is likely to remain our primary airborne find, fix and strike platform until at least the mid-2040s", says Parkin, despite a £60 million ($72 million) contract awarded last July to the company to develop an unmanned technology demonstrator for the anti-submarine warfare mission.
Called Proteus, the aircraft will have a maximum take-off weight of around 3t and a payload of over 1,000kg (2,200lb). First flight is scheduled for 2025.
Parkin says the RN will use Proteus, which is "being built by Leonardo from the ground up", to evaluate the potential of a UAV to perform "some of the more routine and mundane jobs", such as deploying and monitoring a sonobuoy field or cargo transport – and even casualty evacuation.
The trio is rounded out by Primus, a concept demonstrator which Parkin describes as a "logistics solution for our surface combatants that might not have embarked aircraft on board". Offering a payload of 250kg, the cargo UAV will help to "reduce the reliance on crewed helicopters", he says.
Currently in its competition phase, Parkin is hopeful that a winner will be selected later this year, allowing the start of operations in 2024. Should the evaluation prove successful, the RN would look to roll out the remotely piloted capability more widely, potentially moving to autonomous operation in a future iteration.

Dominic Perry is deputy editor of Flight International but also contributes extensively to flightglobal.com. Although specialising in the coverage of the helicopter industry, he has written on most topics in aerospace – be they commercial, defence or business aviation. In addition, there has been an increasing focus on the decarbonisation of the industry and zero-emission flight initiatives.
View full Profile