UK Royal Navy (RN) warships operating in the Middle East will deploy Schiebel Camcopter S-100 unmanned surveillance aircraft from next year, following the type's selection for a roughly £20 million ($24.2 million) requirement.
Announced on 10 February, the RN-named "Peregrine" will meet the service's so-called tactical uncrewed air system need to embark a lightweight adjunct to its Leonardo Helicopters Wildcat HMA2 rotorcraft.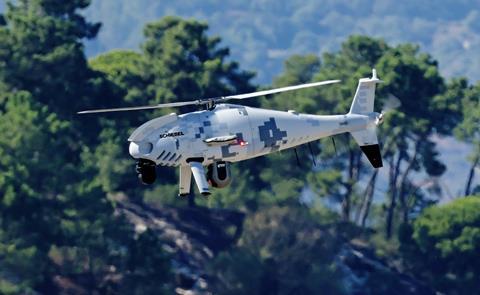 System integrator Thales will install its I-Master synthetic aperture radar payload, enabling the air vehicle to "find, track and identify targets… and feed real-time images and radar data back to Royal Navy warships", the industry partners say.
"Peregrine will be deployed directly into an operational theatre from mid-2024, initially for two years, with the option to extend," the RN says. The platform's use "will enable round-the-clock surveillance of targets over Gulf waters", and support tasks such as "countering pirates, terrorists and smugglers", it adds.
In addition to its direct operational benefits, the RN says its use of the S-100 will deliver "valuable experience and understanding of the use of uncrewed systems in this role ahead of further decisions and investments through the Future Maritime Aviation Force programme".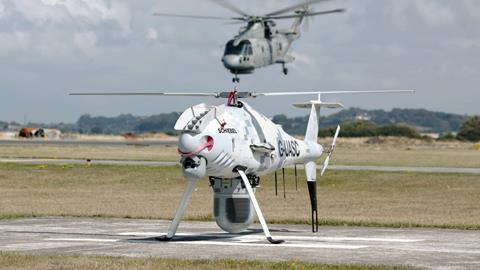 Other systems to be carried by the vertical take-off and landing type will include an electro-optical/infrared sensor, plus automatic identification system equipment to identify maritime vessels. A CarteNav-supplied AIMS mission system will fuse the collected information, which will be relayed to directly its host ship's combat management system.
Rear Admiral James Parkin, director develop for the RN, describes the award as "a key milestone in the Fleet Air Arm's evolution to a mixed crewed and uncrewed fighting arm of the fleet".
"We are anticipating learning many lessons as such technologies continue to develop and offer new opportunities for the current and future navy," he adds.
The UK's selection of the Peregrine system follows a successful test campaign performed last year, including flights conducted during a NATO exercise staged in Portugal.
"The S-100 is the optimal UAS for a growing number of navies worldwide and has proven its superiority and outstanding capabilities throughout its numerous operational deployments," notes Schiebel chairman Hans Georg Schiebel.

Craig Hoyle joined Flight International in 2003, and has edited the now monthly title since 2015. He has reported on the UK, European and international military aviation sector for more than 25 years, and produces our annual World Air Forces directory.
View full Profile