The UK Royal Navy (RN) has performed the first firing of its Thales Martlet air-to-surface missile against a "realistic target at sea", as part of a bilateral exercise also involving the Royal Air Force (RAF) and US military.
Conducted in the North Atlantic during exercise Arctic Thunder, the activity involved multiple assets targeting and sinking a decommissioned US Navy (USN) Oliver Hazard Perry-class frigate, the USS Boone.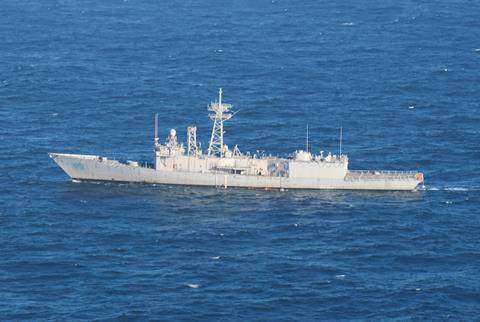 The RN says the multi-service exercise involved "a rare live test of complex weapons against a realistic target far out to sea… giving allies real-world experience of hitting targets from long range".
First, a simultaneous strike was conducted using three Boeing AGM-84 Harpoon anti-ship missiles: two fired by the RN's Type 23 frigate HMS Westminster and another from a USN Boeing P-8A Poseideon maritime patrol aircraft.
HMS Westminster's embarked Leonardo Helicopters Wildcat HMA2 maritime rotorcraft, from 815 Naval Air Squadron, was then employed, firing an undisclosed number of missiles at the ship's hull.
"This was the first firing of the Fleet Air Arm's new anti-ship weapon against a realistic target at sea – to this point Martlet had only been used against purpose-built targets," the RN notes.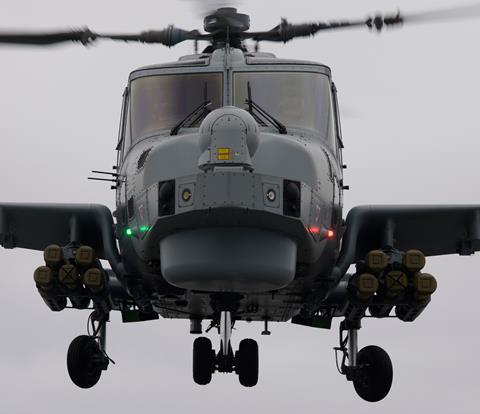 The laser-guided Martlet has a launch weight of 13kg (29lb) and a reported effective range of 3-5nm (6-9km), with a top speed of Mach 1.5. Equipped with a Leonardo-developed weapon wing, the Wildcat can carry up to 20 of the missiles, using four five-round launchers.
"The Wildcat's crew stayed airborne and used the on-board laser-targeting pod to guide in a [Eurofighter] Typhoon from 41 Squadron to launch [Raytheon UK] Paveway IV precision-guided munitions against the target," the RN says. "This was the first time an RAF Typhoon had dropped live ordnance onto a warship used as a maritime target, and the first time a Royal Navy helicopter had guided the Paveway IV on to its bullseye," it adds.
Additional strikes were performed using Raytheon SM-6 surface-to-surface missiles deployed by the destroyer USS Arleigh Burke, and Boeing Joint Direct Attack Munitions released by US Air Force Boeing F-15Es, operating from RAF Lakenheath in Suffolk.
"The integration of high-end weapons, sensors and communications with our NATO allies is key to the collective war fighting capability of the Alliance demonstrated by the sinking exercise," notes Commander Ed Moss-Ward, commanding officer of HMS Westminster.

Craig Hoyle joined Flight International in 2003, and has edited the now monthly title since 2015. He has reported on the UK, European and international military aviation sector for more than 25 years, and produces our annual World Air Forces directory.
View full Profile