Russia is still intent on selling 11 Sukhoi Su-35 fighters to Indonesia, despite pressure on Jakarta to abandon the long-troubled sale.
Speaking at the MAKS air show outside Moscow, Valeria Reshetnikova of Russia's Federal Service for Military-Technical Cooperation said Moscow is still ready to execute the deal, which has been held up for several years.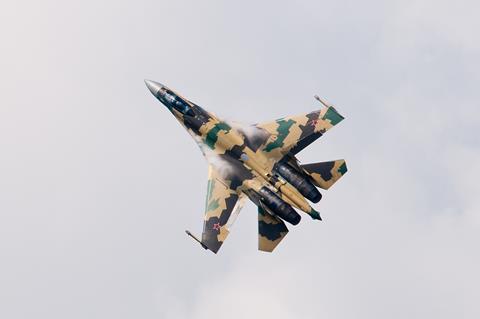 "From the very beginning, the project on supplying 11 multirole Su-35 fighters to Jakarta has attracted the world community's close attention," says Reshetnikova, quoted by Russia's state news agency Tass.
"It's no surprise that after signing [the deal], the Indonesian side has come up against extensive pressure from representatives of certain states. At all possible levels, Jakarta was 'strongly recommended' to abandon the project. However, we confidently assert that the Russian side is intent on fulfilling this contract."
Though she did not name the "certain states" pressuring Jakarta to drop the deal, in past remarks Russian officials have complained about US opposition to the Su-35 transaction. Should the Su-35 sale go through, Jakarta could face US retaliation under its Countering America's Adversaries Through Sanctions Act (CAATSA).
In August 2017, after years of discussion, Jakarta announced that it would buy 11 Su-35s for $1.14 billion, with Moscow obligated to accept 50% of the contract value in local commodities. The deal was also subject to a 35% offset requirement.
At the time of the deal, it was understood that Jakarta ultimately wanted up to 16 Su-35s.
The aircraft are clearly required: the Su-35s were intended to replace 14 Northrop F-5E/Fs that were retired in 2016 after nearly four decades of service.
Apart from CAATSA, the USA has a vested interested in Jakarta obtaining American fighters, namely the Boeing F-15EX. Discussions for this type are in still in the very early stages, however.
In addition, French media have reported that Jakarta is considering 48 Dassault Rafales.
As for other combat aircraft, Jakarta is still squabbling with Seoul about development costs related to the Korea Aerospace Industries KF-X/IF-X programme, in which it is a junior partner.
In mid-2020 Jakarta had expressed interest in buying Austria's used Eurofighters. And in 2019 there was talk of ordering 24 Lockheed Martin F-16Vs, following years of rumoured interest in the Lockheed F-35.