The Russian air force launched a massive volley of cruise missiles into Ukraine on 15 November, while missiles of unclear origin and type landed in neighbouring Poland, a NATO member.
Two people in Poland were killed during the latter incident, according to reports. Polish Prime Minister Mateusz Morawiecki called an emergency meeting of the country's national security council following the event.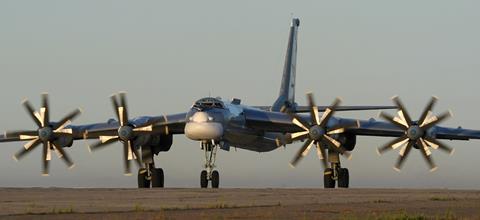 The cause of the fatalities in Poland remains uncertain, and NATO and various governments say they are investigating. The AP reported that the missile might have been Russian, though Russia has denied being responsible. The explosions could also be the result of debris from Ukrainian air defence missiles, or a Russian platform damaged by air defences that subsequently fell into Polish territory.

At a 15 November press conference in Washington DC, Pentagon press secretary Brigadier General Pat Ryder said the US military has not confirmed any details about the impact reported in Poland. "We're not going to get ahead of ourselves here," Ryder said. "We're going to get the facts."
He does confirm "a number of missile attacks" occurred around Ukraine and says weapons used in the strikes were air-launched, long-range cruise missiles, likely fired from Russian airspace.
"The airspace over Ukraine continues to be contested," he adds, saying use of "stand-off weapons" such as cruise missiles by the Russians fits with their lack of air superiority.
The USA's ambassador to Ukraine, Bridget Brink, tweeted confirmation of the attack, saying she was "thinking of our colleagues, neighbours and friends here in Kyiv and across Ukraine".
Ukrainian President Volodymyr Zelensky says at least 85 missiles were fired on 15 November into cities across Ukraine, including the capital Kyiv and the recently liberated centres of Kherson and Kharkiv.

The western city of Lviv, which sits near the Polish-Ukrainian border, was also hit – raising questions about whether the impact in Poland resulted from a targeting error or a missile knocked off course by air defences.
Ryder declines to address whether the missile had originated in Russia, but says the Department of Defense will make public its conclusion once it has a better assessment.
"We have a wide variety of means at our disposal to verify information," Ryder says. "When we have something to provide, we will."
Ryder was also definitive in affirming Washington's commitment to NATO security obligations, saying, "We've been crystal clear that we will defend every inch of NATO territory."