Russian Helicopters' special forces operations-optimised Mil Mi-171Sh Storm rotorcraft has been flown to Kubinka air base near Moscow to appear at the 22-28 August Army 2021 event.
Having debuted at the show in prototype form in 2020, the heavily modified rotorcraft this time completed a five-day, 2,700nm (5,000km) deployment from the Ulan-Ude Aviation Plant in southern Siberia.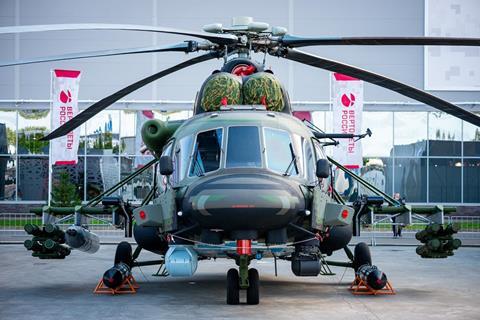 Optimised for use during counter-terrorism missions, the twin-engined platform is fitted with uprated versions of the Klimov VK-2500-03 powerplant, and features "an improved-profile composite main rotor and X-shaped tail rotor".
"The multi-functional special forces helicopter has become a breakthrough product in [our] line-up," says Alexey Kozlov, managing director of the Ulan-Ude Aviation Plant. "It embodies several solutions that significantly increase its combat effectiveness and survivability."
"Improving crew and troop safety was one of the key goals of the upgrade," says Russian Helicopters, with the design also gaining additional armour protection on its fuselage, and a fully armoured cabin floor.
To facilitate the rapid deployment of personnel during operations, the Storm platform features two sliding main side doors "and additional hatches", including in its rear clamshell doors.
Another new feature is the ability to "instantly display aerosol smoke screens to cover up the loading and unloading of troops", Russian Helicopters says.
An enhanced self-protection system is capable of detecting and countering the launch of infrared- and radar-guided missiles "and knock them off course with jammers and decoys".
Depicted in a four-colour "digital" camouflage scheme, the aircraft on show at Army 2021 features stub wings with three stores positions each. These are capable of carrying guided air-to-surface and air-to-air missiles, unguided rockets, UPK-23-250 cannon pods and FAB-250 unguided bombs. Targeting is provided using an electro-optical/infrared sensor turret housed beneath the nose.
The aircraft also has Kord 12.7mm pintle-mounted machine guns for close-in protection.