Saab has secured an SKr1.6 billion ($165 million) order for an undisclosed number of its Saab 2000 Erieye airborne early warning and control (AEW&C) system aircraft.
"The industry's nature is such that due to circumstances concerning the product and customer, further information about the customer will not be announced," says the company.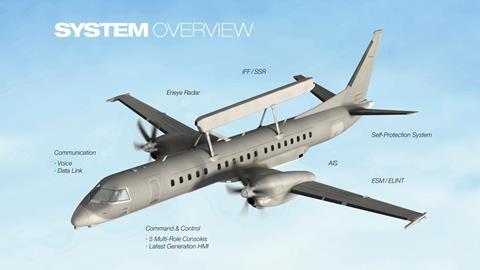 Deliveries will run from 2020 to 2023.
Saab notes that the aircraft can perform multiple missions and comes with a range of sensors, including its Erieye airborne radar.
Pakistan is understood to operate six Saab 2000 Erieyes and Saudi Arabia two.
The Pakistan military's yearbook for 2017-2018 disclosed that Islamabad also obtained three baseline Saab 2000s for a total cost of $9.3 million.