Saab's chief executive remains disappointed but pragmatic following the Gripen E's December 2021 defeat in Finland's HX fighter contest, and is hopeful of success when a two-way competition concludes in Canada later this year.
"I am disappointed when it comes to the selection by Finland to go the US way," Micael Johansson said during a full-year results briefing on 11 February. "We had a great offer to Finland in all aspects. I don't see how we could have done it better."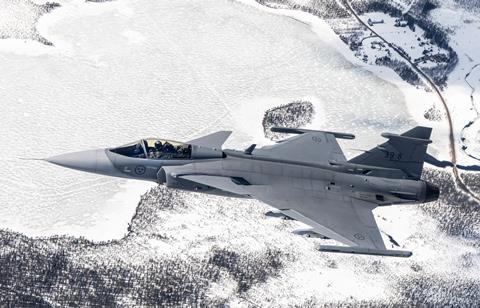 Helsinki selected Lockheed Martin's F-35A for the 64-aircraft HX requirement, with Saab having promoted a package including Gripen Es and two Bombardier Global 6000-based GlobalEye surveillance aircraft.
"The team made a great effort to win that contract," Johansson says.
"We have to respect the decision. We know that security politics and political assessments come into play in these big decisions. Long-time commitments between countries are of course extremely important," he says. "Everything comes to politics sometimes – this is not only about having a great product."
Despite being disappointed with its neighbour's decision, Johansson notes: "We have several opportunities going forward on the Gripen side."
The nearest of these involves Ottawa's pending selection of a new fighter to replace the Royal Canadian Air Force's Boeing F/A-18A/Bs, with the F-35A and Gripen E qualified to compete for the 88-aircraft deal.
"We have a clear answer from the Canadians that we have passed certain requirements for affordability, capability and security when it comes to having our system working inter-operably within the Two Eyes, Five Eyes and NORAD context," Johansson says. "We are now waiting for the next steps from them."
Conceding that political considerations are again likely to form part of the decision-making process, he notes: "We can only do what we are best at. We give countries sovereign capability – we transfer technology, we set up shop in-country, with the capability to manufacture and further develop our systems."
A decision and contract award in Canada's Future Fighter Capability Project are both expected during 2022.
Saab reported orders worth Skr43.5 billion ($4.6 billion) for 2021 – up 3% from the previous year. The company's sales totalled Skr39.1 billion, marking an 11% increase from 2020.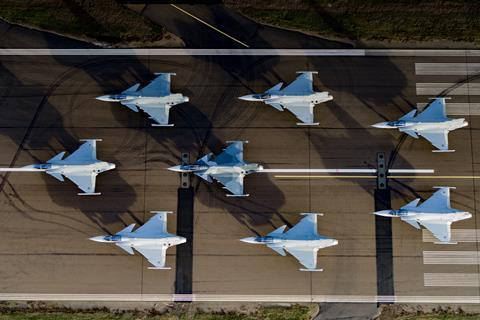 Air sector business highlights last year included the company's first six production Gripen Es rolling out at its Linkoping site, formally starting their delivery process for the Swedish and Brazilian air forces. The services have combined orders for a total of 96 of the new-generation fighters.