Saab is promoting a rapidly deployable version of its digital tower technology, optimised for use during military operations.
Named r-TWR Deployable, the product is an evolution of in-service technology which provides air traffic control services at sites overseen from potentially hundreds of miles away.
"At a time when threats to permanent air bases are increasingly realistic, air forces are looking to expeditionary or remote air operations to provide resilience," Saab says.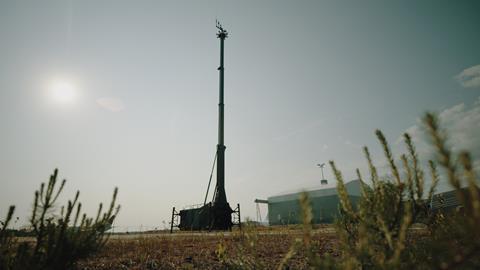 The Swedish company – which developed the system with partner Conlog Oy – unveiled the new design at the Turku air show in Finland on 16 June.
"The r-TWR Deployable includes everything needed for air traffic management at an established or temporary landing strip and can be rapidly transported by road or rail on one or two standardised trailers, or in a cargo aircraft of [Lockheed Martin] C-130 Hercules size," Saab says.
The company also is exploring the potential for elements of the system to in the future be carried as underslung loads beneath large transport helicopters.
In addition to its 30m (98ft)-high mast, which is equipped with between six and eight cameras, the system includes a control module accommodating two air traffic controllers and a supervisor. It would be used in concert with equipment such as Saab's Giraffe 1X lightweight multi-mission surveillance radar.
Additional military uses include supporting operations at austere sites or temporary road landing strips, along with providing a back-up capability at a main operating base. Each control module can oversee operations at up to three landing sites.
Disaster relief and UN-type missions are also viewed as a potential further application for the technology.
"It is an autonomous capability, with power and connectivity," says Niclas Gustavsson, r-TWR product sales at Saab. It can be made operational within 1h by a team of three technicians once in position.
"We make sure that this is cyber-secure and resistant to threats. Wherever we go – Australia, South America and of course Europe – the interest is high [for military digital tower technologies]," he adds.
"We are now actively promoting the system and strongly believe there is a market," Gustavsson says. Following its launch and demonstration in Finland, Saab will exhibit the technology to other potential European customers later this year, and then undertake a "global showcase" with the system during 2024.
Deliveries of an operational system could be made as soon as next year if requested by a customer, Saab says.

Craig Hoyle joined Flight International in 2003, and has edited the now monthly title since 2015. He has reported on the UK, European and international military aviation sector for more than 25 years, and produces our annual World Air Forces directory.
View full Profile