Saab is pursuing potential opportunities to extend Sweden's Gripen C/D lease agreements with the Czech Republic and Hungary, chief executive Micael Johansson says.
"We are discussing extensions on the Gripen programme in Hungary, including a few more aircraft," Johansson said during the company's first-quarter results call on 26 April. "We are discussing an extension with the Czech Republic," he adds.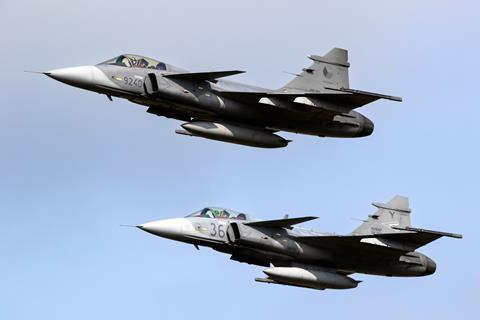 Each of the European NATO nations currently operate 12 Gripen Cs and two Gripen Ds, via lease agreements with Sweden's FMV Defence Materiel Administration.
Sweden in January 2022 announced that Hungary's in-service aircraft are to be upgraded to the C/D model's latest MS20 Block 2 operating standard. To conclude by 2026, the work will boost the type's sensor and communications capabilities, and expand the suite of weapons available for integration.
Notably, Hungary and Turkey are the only NATO member states yet to ratify Sweden's planned accession to the Western military alliance.
Confirmation of discussions with the Czech Republic follow comments from Johansson last July regarding Saab's eagerness to extend the nation's use of the Gripen beyond its current arrangement, which will run until 2027, with an option to extend by a further year. This followed Prague expressing interest in acquiring Lockheed Martin's F-35A – in late 2022 it requested pricing information from the USA for a potential 24-unit purchase.
Johansson also identifies two further current Gripen sales targets, respectively in Latin America and the Asia-Pacific region. "We have a campaign discussion going with Colombia, and also with the Philippines on the C/D version," he says.
Separately, the first Gripen F has entered the final stage of subassembly at Saab's Linkoping site in Sweden. The two-seat version is being developed for the Brazilian air force, which will take eight examples under a 36-aircraft acquisition for its locally designated F-39E/F.
The lead Gripen F will be delivered to the Brazilian customer in early 2025, Johansson says.
Meanwhile, Saab's Aeronautics business unit has been impacted by a one-year slip to the schedule for the Boeing T-7A Red Hawk advanced jet trainer in development for the US Air Force.
"We are still manufacturing the aft [fuselage] part of these aircraft, but the ramp-up is a bit slower," Johansson says. "That will affect profitability until the real production kicks off with the right pace."
He notes: "That will be a profitable programme going forward, but that is hampering Aeronautics a bit as we speak."
Saab is currently producing structures under a low-rate initial production-phase deal, with work performed in Linkoping and at its West Lafeyette site in Indiana.

Craig Hoyle joined Flight International in 2003, and has edited the now monthly title since 2015. He has reported on the UK, European and international military aviation sector for more than 25 years, and produces our annual World Air Forces directory.
View full Profile