Saab's new West Lafayette production site in the USA has been completed, as it prepares to set up aft fuselage manufacturing work for the T-7A advanced jet trainer developed with prime contractor Boeing.
The first aft fuselage for the US Air Force (USAF) trainer arrived at Boeing's St Louis final assembly facility in Missouri on 20 April, having been shipped from Linkoping. The structure, which will be used as part of a ground-test example of the Red Hawk, is among an initial five to be produced in Sweden during the programme's engineering, manufacturing and development (EMD) phase.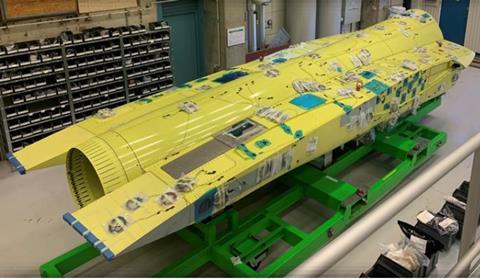 "We are delivering during the remaining part of this year all the [EMD] aft aircraft sections," Saab chief executive Micael Johansson said during a first-quarter results briefing on 23 April. "Then we are transitioning into a new contract phase, which we expect to happen in 2022," he adds.
"We are ready with the factory in West Lafayette in Indiana, which is the most modern factory we have today, in terms of how digitalised and automated it is," Johansson says. "We have people that we have recruited in the US that as we speak are in Sweden to do training to go back to West Lafayette to start production."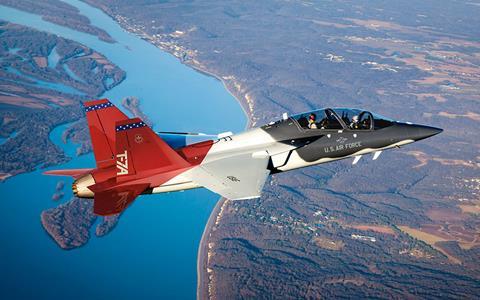 The USAF plans to acquire at least 351 T-7As to replace an aged fleet of Northrop T-38 jet trainers used by its Air Education and Training Command.
"This is going to be a long-term, continuous manufacturing capability that we will have in the US, and also lead to more aeronautics initiatives in the US together with partners," Johansson says. "It's a very important part of Saab going forward."
Meanwhile, Sweden will deliver its best and final offer for Finland's HX fighter competition on 30 April. It is pitching its neighbour a mixed package of Saab Gripen E/Fs and GlobalEye surveillance aircraft, which Johansson believes represents "a very attractive offer" to Helsinki.
Saab faces competition from the Boeing F/A-18E/F Super Hornet/EA-18G Growler, Dassault Rafale, Eurofighter Typhoon and Lockheed Martin F-35A.