Saab chief executive Micael Johansson has reshuffled his senior management team, in a bid to better position the Swedish company to pursue new business opportunities with NATO member nations.
Announced on 10 February and to be implemented from 1 March, the move will see Jonas Hjelm assume the new position of head of government affairs, reflecting what Saab describes as a "changing geopolitical landscape".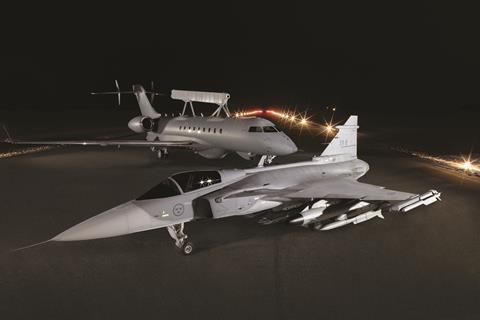 Hjelm's current role leading Saab's Aeronautics business area will be assumed by Lars Tossman, who is to move from the top position at the company's Kockums naval unit.
"Following higher defence spending across our key markets and Sweden's NATO application, we are further strengthening our focus on government affairs," Johansson says of the decision.
Russia's February 2022 invasion of Ukraine has driven increased spending on military equipment among European NATO members, and also spurred Finland and Sweden to seek accession to the currently 30-nation military alliance.
While the conflict has not yet resulted in new combat aircraft purchases, Saab has resumed manufacturing NLAW shoulder-launched anti-tank missiles under contracts from Sweden and the UK, who are donating the defensive equipment to Kyiv.
"I think that countries in Europe will continue to grow their defence spending for many years to come," Johansson said during a full-year results presentation on 10 February.
Indeed, he notes: "NATO is now gathering again to discuss what is the floor of spending to be a strong alliance. Now it is 2% [of national GDP], but I wouldn't be surprised if it is more than that when he have passed the next [NATO] Summit."
Saab recorded orders worth SKr63.1 billion ($6 billion) in 2022, against sales valued at SKr42 billion. Its fourth-quarter performance was especially strong, with respective figures of almost SKr29.9 billion – up 144% versus the same quarter a year earlier – and nearly SKr13.9 billion.
Its year-end order backlog stood at SKr128 billion.
"We start seeing an impact directly on orders connected to Ukraine. Many countries in Europe have seen their stocks [of weapons] being depleted. They need to be replenished, and they will go above maybe what they had before," Johansson says. "We need to be diligently working that market," he adds.
The company's 2022 contracts included a fourth-quarter deal to upgrade the Swedish air force's Saab Gripen C/D fighters. Valued at SKr3.5 billion, the activity will deliver enhancements to the type's engine, radar and electronic warfare system, to be embodied across the fleet by 2029.
Meanwhile, Johansson says Saab is eyeing additional sales of its new-generation Gripen E, a combined 96 of which have been ordered so far by Sweden (60) and Brazil (36).
"There is intensity in the market. We are involved in a few campaigns, both in South America and Europe when it comes to the Gripen aircraft," he says.

Craig Hoyle joined Flight International in 2003, and has edited the now monthly title since 2015. He has reported on the UK, European and international military aviation sector for more than 25 years, and produces our annual World Air Forces directory.
View full Profile