Saab will insource some work on its Gripen E/F fighter programme from undisclosed suppliers who are struggling to maintain services through the coronavirus-driven downturn, and has announced a potentially SKr1.5 billion ($170 million) impact on its Aeronautics business unit.
Detailing the developments during a third-quarter results call on 19 October, Saab chief executive Micael Johansson stressed that the supply chain measure was being taken to protect the company's long-term production schedule for the Swedish air force and export customer Brazil.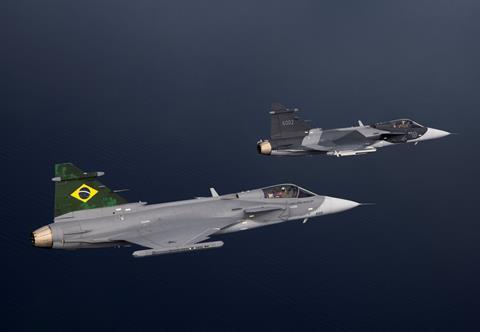 "The prolonged pandemic and slow recovery is primarily affecting subcontractors and material supply for the Gripen E/F programme, with consequences for development, verification and production work," Saab says. "The Gripen programme is characterised by long lead times and small series, where components must be certified for airworthiness," it adds.
An initial SKr1.1 billion charge was incurred during the third quarter, and the company cautions that a further SKr0.4 billion impact could follow. "The assessment of future possible economic impact within Aeronautics has become increasingly uncertain," it says.
The current frailty with the company's supply chain has combined with the impact of travel restrictions to complicate Saab's ability to work with its subcontractors. "We can't go and see our suppliers – we can't exchange sensitive information or work on software," Johansson notes.
"Some [suppliers] are not getting back on track, and others are halfway, with a huge backlog [of commercial work]," he says, without identifying any of the companies involved. "We actually have to insource a number of things."
With such adjustments having time and cost implications, Johansson says: "Changes in the supply chain are not so easy. It takes a lot of effort, time and resources for redesign, re-industrialisation and re-qualification. Those are some of the mitigating actions that we are taking as we speak, and will have to take going forward. What we do today will affect us two to three years ahead, when we it comes to the delivery of aircraft.
"The adjustments are being made now, to make sure that we have a project going forward that is reasonable when it comes to profitability," he adds.
"We continue to work with our customers, and we will continue to deliver aircraft," Johansson says. "And we have absolutely no problem supporting the proposals that we have in the marketplace, in terms of Finland and Canada."
Johansson says the broader impact of Covid-19 on commercial aviation saw a 30% decline in Saab's aerostructures work and air traffic management-related business during the third quarter, versus a year earlier.
Despite this, the company's overall performance during the three-month period was up around 8% from the same period in 2019, while its volume of order intake through the year to the end of September was up by almost 30%. "We are building a strong backlog continuously," Johansson says.