Saab has opened its new factory in West Lafayette, Indiana in support of the Boeing T-7A advanced jet trainer programme.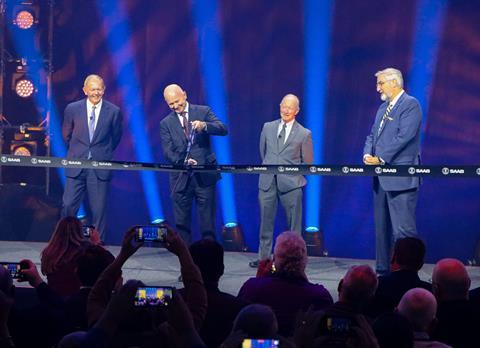 The opening of the new factory was announced by both Boeing, the prime contractor for the T-7A programme, and programme partner Saab.
"This opening marks a historic moment for Saab," says company chief executive Micael Johansson.
"This high-tech facility and its growing workforce are a result of Saab's continued investment in the United States. Just as the T-7A Red Hawk will train the next generation of fighter and bomber pilots, we look forward to welcoming and training the next generation of aerospace engineers and other skilled employees."
The 9,290sq m (100,000sq ft) facility will produce the aft section of the T-7A, according to Boeing.
Now, the aft section is produced on the other side of the Atlantic Ocean at Saab's factory in Linkoping, Sweden, before shipment to the USA. The new facility is less than 300 miles (489km) from Boeing's T-7A production line in St. Louis, Missouri.

"Our teams will no longer have to tackle lengthy trans-Atlantic shipping schedules," says Steve Parker, Boeing Bombers & Fighters vice-president and general manager.
"The digital characteristics of this trainer not only enables adaptive growth in future builds, but it also significantly improves quality as compared to traditional design and manufacturing methods."
Saab adds that in addition to T-7A work, the facility will support research and development in areas such as autonomy, artificial intelligence, and advanced manufacturing.
In September 2018, Boeing secured a $9.2 billion US Air Force (USAF) contract for 351 T-7As and 46 ground based training simulators. The type will replace the venerable Northrop T-38 as the USAF's advanced jet trainer.
At Boeing, the aft section of the T-7A is mated with the jet's front section, wings, fins, and tail assembly. Saab has said the aft section and its installed subsystems is the centre structure of the T-7A from behind the cockpit to the tail.