Safran Helicopter Engines has redoubled its efforts to secure a place on the UK's New Medium Helicopter (NMH) programme, reiterating the significant operational and economic advantages it believes selection of its Aneto-1K powerplant can offer.
The 2,500shp (1,860kW)-class Aneto-1K is only available on the Leonardo Helicopters AW149 – one of three contenders for the NMH requirement alongside the Airbus Helicopters H175M and Sikorsky S-70M.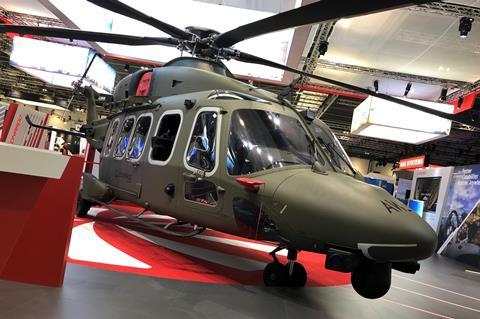 AW149s delivered to date have been powered by twin GE Aerospace CT7 engines, but Safran argues that the Aneto-1K would offer the "optimum propulsion solution".
"This solution will cost-effectively enable the best helicopter performance whilst maximising the programme's contribution to UK prosperity," says the engine manufacturer.
An Aneto-1K-powered AW149 would, it says, be able to "operate unconstrained by environmental conditions at maximum payload whilst offering the additional power margin for through-life weight growth".
The helicopter's hot and high, and one engine inoperative performance would both improve with the Aneto, it says.
If selected, Safran says it would build the Aneto and the AW149's eAPU on a new assembly line at its facility in Fareham, Hampshire, part of a £10 million ($12.4 million) investment at the site that would see headcount rise by 20%.
Aneto and eAPU overhaul and test activities would also to be performed on the same site, and Safran also intends to stand up a new overhaul facility for the related RTM322 engines which power the UK Royal Navy's Leonardo Helicopters AW101 Merlin fleet.
Safran's familiarity with the UK's military airworthiness authorities will also provide a "rapid route to operational capability" for the ITAR-free engine, it adds.
Of the three NMH contenders, only the AW149 offers a choice between different engines: the H175M is powered by twin Pratt & Whitney Canada (P&WC) PT6s and the S-70M by GE Aerospace T700s.
Airbus Helicopters has partened with P&WC for PT6 sustainment, while Sikorsky will use StandardAero – located in Gosport, a little under 5 miles (8km) from Safran's Fareham premises.

Dominic Perry is deputy editor of Flight International but also contributes extensively to flightglobal.com. Although specialising in the coverage of the helicopter industry, he has written on most topics in aerospace – be they commercial, defence or business aviation. In addition, there has been an increasing focus on the decarbonisation of the industry and zero-emission flight initiatives.
View full Profile