UK technology firm Smith Myers has successfully integrated its Artemis mobile phone detection and communications system onto the Schiebel Camcopter series of rotary-wing unmanned air vehicles (UAVs).
Displayed on a model of the Camcopter S-300 on the Schiebel stand at this week's DSEI event in London, Artemis effectively turns the platform into a cell phone base station, improving location accuracy over traditional direction finding technology, says Andrew Munro, managing director of Smith Myers.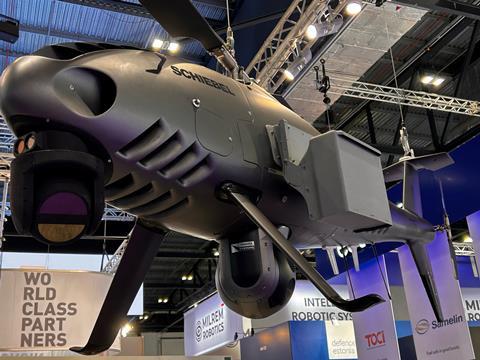 In addition, it allows a user to detect or communicate with up to 27 individual phone handsets per second, as well as displaying the nationality of the mobile phone. "It's a real force multiplier for the operator," says Munro.
Integration work with Schiebel took place earlier this year, culminating in a series of flight tests that began in July at the Austrian airframer's Wiener Neustadt site. Power for the system is taken from the UAV's engines and it uses existing communications links.
The twin antennae for Artemis are mounted on the underside of the aircraft's tail boom.
Artemis is already used by the Royal Norwegian Air Force aboard its Leonardo Helicopters AW101 search and rescue fleet, alongside other operators including Italy and the United Arab Emirates on a variety of fixed- and rotary-wing platforms.
It will also be deployed from next year on aircraft operated by Bristow and 2Excel as part of their second-generation search and rescue contract with the UK coastguard.
In addition to large manned aircraft, the system has been integrated with small UAVs including the Teledyne FLIR SkyRanger R70.
Smith Myers sees other uses such a maritime patrol and border protection, or disaster relief operations.
Munro says the company has been working for the last 30 months on new hardware for Artemis to improve performance. "It will be smaller, lighter and faster," he says. First fielding of the enhanced system is to take place in around 18 months, he adds.

Dominic Perry is deputy editor of Flight International but also contributes extensively to flightglobal.com. Although specialising in the coverage of the helicopter industry, he has written on most topics in aerospace – be they commercial, defence or business aviation. In addition, there has been an increasing focus on the decarbonisation of the industry and zero-emission flight initiatives.
View full Profile