The crucial defence electronics element of the Global Combat Air Programme (GCAP) between Italy, Japan and the UK will advance under a "spirit of equal partnership", according to the companies involved.
"The partners have identified that a joint project delivery set-up will be the most efficient and effective way of delivering the programme at pace, as well as ensuring freedom of action and modification for all three nations," they say.
An initiative between ELT Group and Leonardo Electronics Italy, Japan's Mitsubishi Electric, and Leonardo UK, the trilateral effort will deliver the so-called ISANKE & ICS suite for a future manned fighter to enter use from 2035. This will integrate the aircraft's radar, sensor and electronic warfare equipment, and communications technology.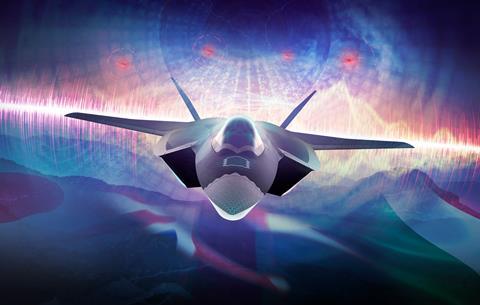 Announced at the DSEI show in London on 12 September, the new development – which "moves the partners closer to the creation of a permanent industrial construct" – builds on a collaboration agreement reached at the DSEI Japan event in March 2023.
"A number of alternative operational and commercial models" are being considered, the parties say.
"In addition to commercial discussions, over the last few months the domain partners have also made significant progress on the technical side of the programme, with the ISANKE & ICS subsystem passing a three-nation systems review," they say.
"The partners have agreed on the high-level design of the ISANKE & ICS sub-system: what will the key blocks of the system be, where will they sit in the aircraft and what will they do."
Speaking at the show, Andrew Howard, Leonardo UK's director future combat air, noted: "We are seeing technology maturing against the required curve to meet that 2035 timescale."
Howard tells FlightGlobal that a so-called "best athlete" industrial model is not applicable due to national customer requirements, but that tasks will not be assigned on a rigid one-third-each model, in the interests of efficiency.
"We are trying to get an alignment of the system configuration and work allocation in the course of the next six to 12 months," he says. "There is a great focus on making sure the work allocation is shared aligned to the investments and aligned to the capabilities that exist with the companies and the countries' aspirations."
Meanwhile, Giovanni Zoccali, vice-president Europe & consortia sales and business development at ELT Group, describes the working group as "a good, winning mix", noting: "The capability of a single partner in the programme may increase the capability of the other partners, so that the total effect is better."

Craig Hoyle joined Flight International in 2003, and has edited the now monthly title since 2015. He has reported on the UK, European and international military aviation sector for more than 25 years, and produces our annual World Air Forces directory.
View full Profile