Final assembly of the first Korea Aerospace Industries (KAI) KF-X fighter has commenced in Sacheon, South Korea.
The process will see the aircraft's fuselage sections and wings joined, says South Korea's Defense Acquisition Program Administration.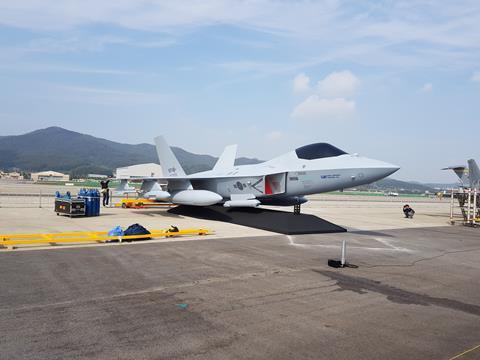 A ceremony planned to mark the occasion was cancelled, however, owing to the coronavirus outbreak.
Despite the pandemic, South Korea has pressed ahead with KF-X work. In early August the production prototype of the aircraft's indigenous active electronically scanned array radar, which is produced by Hanwha Systems, was revealed.
In July, KAI revealed the first fuselage of the lead KF-X, while in June GE Aviation delivered the first F414 engine for the twin-engined jet. GE will deliver 15 additional F414s to power the programme's six prototypes, of which one example will go to programme partner Indonesia.
Ultimately, Hanwha Aerospace will license produce the F414 locally.
The first prototype is due to be rolled out in April 2021, with test flights starting in 2022 and running to 2026. Mass production will commence in 2028, but the aircraft will have limited weapons capability.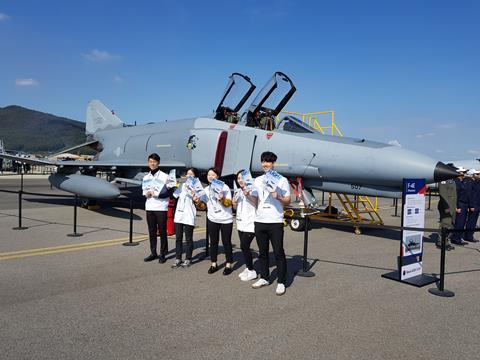 Series production jets produced from 2029 onwards will be able to use a full range of air-to-air and air-to-surface missiles.
At least 120 examples are expected to replace the Republic of Korea Air Force's fleet of ageing McDonnell Douglas F-4D/E Phantom IIs and Northrop F-5E/F Tiger IIs. Indonesia appears likely to obtain 48 examples of the IF-X variant, with an initial order of 16, and 32 to follow depending on finances.