South Korea is to obtain a new special forces helicopter and develop a new electronic warfare (EW) aircraft, as it announces the possibility of working with Boeing on future weapons systems.
Seoul's Defense Project Promotion Committee has approved a plan to obtain a large helicopter to infiltrate army special forces and improve the air force's search and rescue capabilities, says the Defense Acquisition Program Administration (DAPA).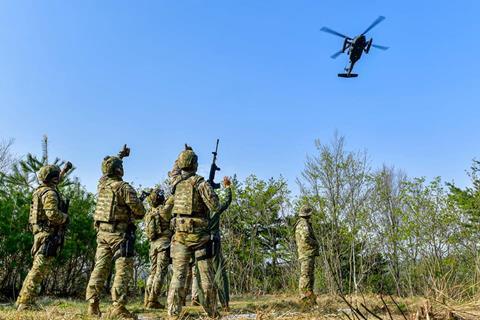 The programme will run from 2023-2031, with funding of W3.7 trillion ($2.9 billion). DAPA did not state how many rotorcraft will be acquired.
Cirium fleets data suggests that the Republic of Korea Air Force operates the Sikorsky UH-60 in the combat search and rescue role, and that its Boeing CH-47Ds also perform search and rescue work.
The average age of its 17 UH-60s is 30.4 years, while the average age of its five CH-47Ds is 31.1 years.
According to a report by Yonhap, Seoul is open to either the CH-47F or the Sikorsky CH-53K for the requirement.
The committee has also earmarked W1.85 trillion to develop an EW aircraft in the 2024-2032 period. The aircraft will be able to disrupt enemy air defences and communications, as well as collect signals intelligence from neighbouring countries.
Separately, Boeing and DAPA agreed to explore collaboration on unspecified "advanced weapons systems" during a visit to South Korea by Boeing Defense, Space & Security president and chief executive Ted Colbert.
"For over 70 years Boeing has been committed to its partnership with Korea," says Colbert. "This agreement aligns with Boeing and DAPA's common interest of establishing a strategic partnership to support the US-[Republic of Korea] alliance."
DAPA minister Eom Donghwan says the agreement will be especially supportive of small and medium-sized companies in South Korea.
The pact will see Boeing and DAPA form working committees who will meet regularly to "identify weapons systems of mutual interest".