Southeast Asia faces a critical decade as it seeks to upgrade its airpower capabilities amid a challenging geopolitical environment.
During a recent webinar hosted by FlightGlobal, four defence experts weighed in on Southeast Asia's airpower requirements in the run up to the Singapore Airshow next February. The full webinar is available below, and on FlightGlobal's YouTube channel.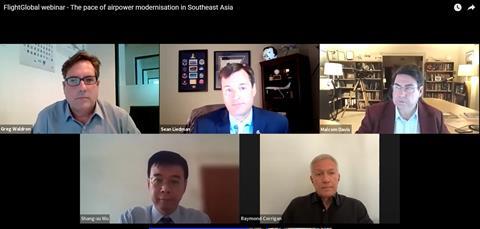 One theme the panel stressed is that regional militaries need to consider how to maximise limited defence budgets – which will be impacted by Covid-19 – with flexible, sustainable capabilities.
Sean Liedman, director of international sales for mobility and surveillance at Boeing, notes the vast geographies inherent in Southeast Asia, and that the maritime domain is far bigger than the land domain.
"Those two geographical characteristics lead to four high-level requirements or attributes for military aircraft in the region: range, speed, persistence, and multi-mission capability," says Liedman.
"It's also important to keep in mind that aerial refuelling can extend the organic mission radius of a platform, and that's why we see so many Southeast Asian countries investing in platforms that are capable of in-flight refuelling, and also platforms that can deliver aerial refuelling."
Further, high-speed and long-range aircraft can extend a country's surveillance horizon, allowing faster detection of threats and giving leaders more time to make decisions.
Malcolm Davis, an analyst at the Australian Strategic Policy Institute, contends that Southeast Asian governments face two challenges: China's increasingly advanced military capabilities, as well as insurgencies. He gives the example of the Philippines, which has territorial disputes with China in the South China Sea, while also facing insurgency challenges.
He suggests that regional governments should invest in "asymmetric" capabilities as regards to China. He acknowledges that getting the balance right will be tricky.
"They've also got a challenge in the sense that they can't afford to have large force structures, and they can't afford to have large investment in capability," says Davis.
"So where do they balance their investment? Do they balance it in favour of platforms, acquiring the latest platforms for 4.5th- and fifth-generation systems, or do they invest in the sustainment of capabilities, so that whatever they acquire is operationally useful and ready?"
Another panelist, Wu Shang-Su, research fellow at the S. Rajaratnam School of International Studies, notes that the Philippines and Malaysia picked up the pace of defence acquisition after incidents involving Chinese incursions, but that generally bureaucratic challenges, domestic concerns, and funding tend to slow the pace of acquisitions regionally.
Moreover, Wu says it can be a challenge for the larger countries in the region, such as Indonesia, to build out the infrastructure to support capabilities across large geographies.
Finally, Ray Corrigan, a defence consultant and former Raytheon executive, says that Southeast Asian nations need to change their mindsets from focusing on buying products, to performing a deep analysis of the threats their air forces are likely to face, and where their existing capabilities fall short – whether this be in weapons, training, lifecycle maintenance, and the type of exercises they conduct.
"They need to move from a product mindset to a solution mindset," says Corrigan.
In addition, the panel discussed a number of other areas including defence offsets, the opportunities and challenges involved in unmanned systems, and the cost-benefit analysis required when obtaining military aircraft.