Spain has ordered a follow-on batch of 16 Pilatus PC-21s, in a move which will boost its fleet of the turboprop-powered trainers to 40 aircraft.
"After a very professional negotiation phase, the Spanish air force has now ordered another 16 PC-21s to reinforce pilot training," Pilatus says. "The training bandwidth of the PC-21 will also be enlarged: in future, the PC-21 will also be used for elementary training in addition to basic training."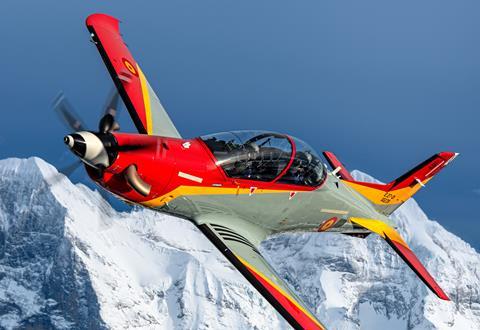 Madrid in 2020 ordered its current 24 PC-21s, with deliveries having been completed in mid-2022.
"Now in use with the Spanish Air and Space Force for over 18 months, the PC-21 integrated training system far exceeds our expectations," says Lieutenant Colonel Ildefonso Martinez-Pardo Gonzalez, air operations group commander at the service's training academy.
"Its reliable and efficient powerplant, aerodynamics, safety systems and avionics make the PC-21 a highly versatile trainer, capable of performing any phase of flight training from the most elementary to the most advanced," he adds.
Fourteen of the additional aircraft will be delivered to the academy, with the other two to be assigned to experimental, flight-test and research and development activities at Torrejon air base near Madrid.
In addition to the aircraft, the new order also will cover the provision of a PC-21 simulator and two cockpit procedure trainers, plus mission planning and debriefing systems.
"Spain's decision is a testimony to the capabilities of our training system," says Pilatus chief executive Markus Bucher.
Pilatus notes that the new order means Spain will become the largest operator of the PC-21 in Europe. Its other customers in the region are the air forces of France (26) and Switzerland (8), Cirium fleets data shows.
The Swiss airframer says it delivered 11 PC-21s and received orders for 17 of the type last year, with Cirium data showing a total of 244 examples as being in current active use. Other operators of the type are Australia, Jordan, Qatar, Saudi Arabia, Singapore, the United Arab Emirates and the UK's Qinetiq.

Craig Hoyle joined Flight International in 2003, and has edited the now monthly title since 2015. He has reported on the UK, European and international military aviation sector for more than 25 years, and produces our annual World Air Forces directory.
View full Profile