Spanish industry has been formally included within a multinational effort initiated by France and Germany to develop a Future Combat Air System (FCAS), following a 10-month "onboarding" process.
The step sees Madrid attain equal status to Paris and Berlin during the FCAS initiative's Joint Concept Study activity, including a Phase 1A work package launched in February 2020.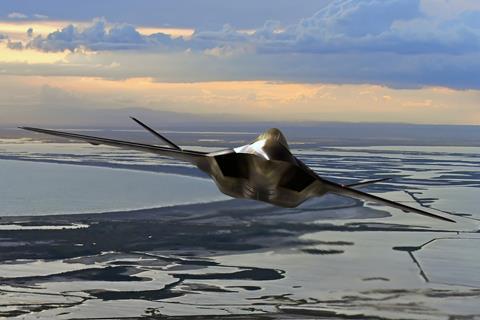 "We worked with our industrial partners in Spain – Airbus Spain, Indra, SATNUS and many others – to develop offers for Spain to participate fully," Bruno Fichefeux, Airbus Defence & Space's head of FCAS, said on 9 December. "The award of all these contracts was confirmed last week, and now Spain is a fully-fledged member of the FCAS adventure."
Airbus Spain will be prime contractor for work related to the FCAS project's low observable technology, acting in partnership with Airbus Germany and Dassault. Airbus also will head New Generation Fighter (NGF) activities for Madrid, while Indra is to lead on sensors.
Current Phase 1A activities are working towards a series of technology demonstrations to be conducted from 2026, including of an NGF platform, which should get airborne for the first time in the second half of that year.
Fichefeux says €300 million ($363 million) has been invested in the FCAS project since its launch early last year, and that negotiations are ongoing with the nations and industrial partners to determine their contribution beyond the Joint Concept Study phase, which will conclude at the end of 2021.
"Next year we will go from a few millions to billions," Fichefeux says. "We need to reach this point of commitment to give perspective to the industry, and to reach the irreversible path for the development of FCAS. For that, we need speed, funding and a strong political commitment, which we have today and need to maintain," he adds.
"We have pushed together with our partners – especially Dassault Aviation – the need for demonstrators in the technology maturation stream," he says. To cover all aspects of the future system, also including its Combat Cloud data network, "this is a major de-risking approach towards the future development programme, to ensure that we are on time and expectation."
Fichefeux says Airbus and Dassault in September submitted information on "the five best architectures" for FCAS, and that this was recently validated by the nations' air force chiefs.
The proposals include equipment such as large and small fighters, remote carrier vehicles and loyal wingman-type unmanned platforms.
First operational capabilities resulting from the FCAS programme could be fielded by 2030, with the full system expected to enter use by 2040.
Airbus is encouraging an eventual merging of Europe's current two parallel FCAS development efforts; the other being the UK-led Tempest project, supported by Italy and Sweden, and due to deliver frontline capability by 2035. "If the governments want to define a path of convergence we will support it in due time," Fichefeux says. "[But] our responsibility on the industry side is to not lose time waiting."