Rafael has increased the standoff capability of its Spice 250 air-to-surface munition with the addition of a turbojet.
The updated Spice 250 ER (extended range) has a range of "at least" 81nm (150km), says Rafael.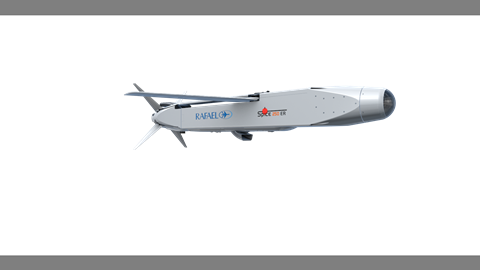 "Spice 250 ER will incorporate a miniature turbo-jet engine with an internal JP-8/10 fuel system, providing the weapon a range of at least 150km, while retaining the same mission-planning system, aircraft interfaces and aircrew operation," says Rafael.
The company announced the upgrade on the first day of the Aero India show, which is taking place in Bengaluru.
The weapon can receive information about a target either before or during flight, and uses inertial navigation to reach the target area. Upon reaching the target area, the Spice can automatically acquire the target, and can also engage moving targets.
"The combination of the increased loadout of Spice 250 variants, the unique homing methods for various scenarios, and the extended range, enable a high volume, autonomous, precision-strike capability against multiple target types, with assured very low collateral damage and at a cost-effective price-point," says the company.