A UK industry team selected early this year to develop and flight-test a lightweight affordable novel combat aircraft (LANCA) demonstrator for the UK Ministry of Defence has provided further details about its composition.
Led by prime contractor Spirit AeroSystems Belfast, Team Mosquito was already known to also involve Northrop Grumman UK, but on 27 April research and development company Intrepid Minds was named as avionics supplier for the unmanned aircraft.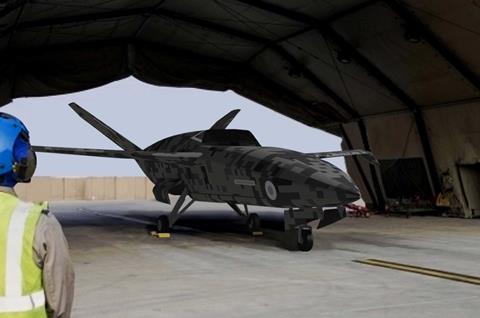 The UK Ministry of Defence (MoD) on 25 January announced its selection of the Spirit-led team for a £30 million ($41 million) demonstration activity, with a full-scale vehicle due to be flown by the end of 2023. The effort is exploring the potential of using such a platform as part of a future combat air system capability, including as an adjunct – or so-called loyal wingman – to the Royal Air Force's proposed Tempest fighter.
"Supporting the MoD's strategic objectives on pace, affordability and operational capacity, Team Mosquito will help drive collaborative innovation and competitive advantage," says Scott McLarty, Spirit AeroSystems Belfast's senior vice-president, Airbus programmes.
"Exploiting agile design principles, sophisticated digital applications, and advanced manufacturing skills, the team will generate knowledge and evidence for a potential follow-on project," it says.
"Spirit Belfast will adapt its award-winning resin transfer infusion technology to produce a lightweight vehicle capable of uncrewed, high-speed flight," the company says. It notes that the use of such advanced composite material will reduce airframe weight and lower fuel consumption.
In addition to providing systems engineering support during manufacturing of the prototype aircraft, Northrop's involvement will include supplying its "international distributed autonomy/responsive control technologies, gateway offerings and advanced mesh networking capabilities to the aircraft".
This equipment will enable "seamless human-machine collaboration and cooperative mission management across distributed manned and unmanned assets", the company notes.
"By applying modern software development practices to a digital engineering environment, we aim to dramatically reduce the time required to build a flying demonstrator while allowing for seamless integration of additional future capabilities," says Katharine Sealy, Northrop Grumman UK's director of national security solutions.
Intrepid Minds' role will span "the complete avionics system, power, lighting and integration with the ground control station", the partners say.
"Our ability to pull in the best technologies from suppliers and integrate them centrally with our Adrestia system and Spectre hardware can rapidly enhance a system of systems approach," notes managing director Adam Smith.